Product News: Vision Systems, Electrical Equipment & Systems, Green & Clean
LED Lamps provide 360 degree light projection.
Press Release Summary: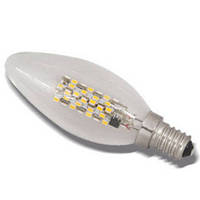 April 14, 2014 - Available for internal and external use, EcoLights LED Bulbs contain no mercury or other toxins, emit 0% UV radiation, and are 100% recyclable. Lamps offer instant switch-on, are fully dimmable, and are available in variety of shapes, sizes, and glass renderings. Operating without bulky heat sink of conventional LED lamps, bulbs provide eco-efficient solutions for large scale industry, car parks, warehouses, supermarkets, offices, restaurants, and hotels.
EcoLights Green Technologies Ltd
Original Press Release
Former IKEA Executives Revolutionise LED Light Bulb Technology at EcoLights
Press release date: April 4, 2014
HONG KONG, -- EcoLights [ http://www.ecolightsgreentechnologies.com is an innovative Swedish green technology company that is leading the way in environmentally friendly, energy efficient and cost- and maintenance-reducing, lighting solutions.

EcoLights has propagated a revolutionary new range of LED lamps that look surprisingly identical to traditional bulbs. So much so, that Thomas Edison's familiar design of around 130 years ago and that of the new EcoLights could be twins, were it not for a secret innovation that lies at the heart of the new lamps.

EcoLights helps companies and organisations to realise savings of up to 90% on their electricity for lighting costs, whilst increasing the productivity, comfort and well-being of users of the lighting space.

All of EcoLights lighting products contain no mercury or other toxins, emit 0% UV radiation and are 100% recyclable. Thus, helping to preserve the environment, as well as empowering organisations to become more sustainable.

A wide range of unique and cost-reducing eco-efficient lighting solutions are available for internal and external use. Whether for a large scale industry, car park, warehouse, supermarket, office, restaurant, hotel or a small shop, through EcoLights extensive range of lighting solutions, exactly the right lighting solution can be provided to match any requirement. Such as ambient reactive light for offices, perfect white light for operating theatres, special luminaries for cold stores and freezers, or different colour temperatures to create an inviting retail environment for customers.

According to EcoLights' Swedish founders Patrik Ahman, Christer Petersson, Patrik Hedkvist and Greger Scholander, the new bulbs have all the benefits of modern incandescent bulbs, including: 360 degree light projection, instant switch-on, are fully dimmable, aesthetically pleasing and available in a variety of shapes, sizes and glass renderings. The difference is that EcoLights are 6 times more energy efficient than incandescent bulbs, have a life expectancy that is 42 times longer and the bulky heat sink of conventional LED lamps is blissfully absent.

Co-founder Patrik Ahman explains EcoLights [ http://www.ecolightsgreentechnologies.com success: "We launched EcoLights at the Stockholm Furniture & Light Fair in February 2013 and the response was overwhelming. Perhaps not surprising because customers always get excited about features others do not have. After all, our design is revolutionary and stood out from the crowd."

Full story and High Resolution Pictures on: http://www.ecolightsgreentechnologies.com/prmarch14

For further information on EcoLights Green Technologies Ltd., please contact:

christer.petersson@ecolightsgreentechnologies.com  Tel: +46-705-378360
patrik.ahman@ecolightsgreentechnologies.com  Tel: +46-723-332550
patrik.hedkvist@ecolightsgreentechnologies.com  Tel: +46-703-332757
greger.scholander@ecolightsgreentechnologies.com  Tel: +86-1321-7562030

http://www.ecolightsgreentechnologies.com