LED High Bay Pendants exceed DLC requirements.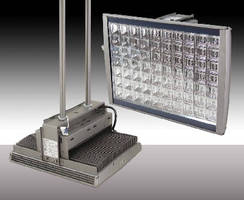 LED High Bay Pendants exceed DLC requirements.
October 11, 2013 - Offered in 130, 160, and 200 W models, BayMAX™ LED High Bay Pendants produce 16,000 lm output, replacing 400 W metal halide fixtures in applications that require mounting heights of 15–40 ft. IP65-rated units feature die cast aluminum body, enclosed power supply housing, and dacrotized coating for corrosion resistance. Advanced discreet optic reflector package ensures uniform horizontal distribution, while dimming drivers enable adjustable light levels using occupancy sensors/controls.

Original Press Release

MaxLite, Inc
12 York Ave.
West Caldwell, NJ, 07006
USA



MaxLite Adds BayMAX LED High Bay Pendants to DLC-Qualified Products List


West Caldwell, New Jersey — MaxLite® announces the addition of its BayMAX™ LED High Bay Pendants to the DesignLights Consortium® (DLC) Qualified Products List (QPL), making the fixtures available for national utility rebates. Offered in 130-, 160- and 200-watt models, the LED high bay pendants are designed to replace up to 400-watt metal halide high bay fixtures while improving lighting quality and reducing energy and maintenance costs. The fixtures deliver uniform wide general light distribution in a variety of commercial and industrial applications, including factories, warehouses, shopping malls and large retail spaces, gymnasiums and sports arenas, workshops, dockyards, toll booths, houses of worship, and other facilities that require high mounting heights of 15 to 40 feet.

"Our BayMAX LED High Bay Pendants are positioned to exceed the stringent requirements developed by the DLC, and meet the difficult challenges of high ceiling environments," said Vice President of Product Marketing and Engineering Pat Treadway. "These performance-driven fixtures deliver superior high bay lighting alternatives over traditional HID fixtures with advanced finishes and optics, and will help facility executives make intelligent budgetary and energy-saving upgrades to LED technology."
 


With an enclosed power supply housing and covered optics, the LED fixtures are designed with die cast aluminum bodies that ensure durability, improve business efficiency and illuminate challenging locations without maintenance disruptions. These units feature advanced dacrotized coatings for corrosion resistance, an advanced discreet optic reflector package for uniform horizontal distribution that deploys up to a 16,000 lumen output, superior vertical distribution with reduced glare, and patented thermal heat dissipation technology and efficient cooling for extended component life.

Dimming drivers enable adjustable light levels using third party occupancy sensors and control systems that maximize energy savings. IP65-rated for wet locations, these fixtures are engineered with high-efficacy LED boards featuring LM-80 tested LEDs protected by a tempered glass diffuser for efficient performance. The fixtures also feature dual down-rod mounting for increased stability.

MaxLite's LED high bay pendants are offered as universal voltage (120- to 277-VAC) and available in gray and white finishes.

See high-resolution images at http://www.maxlite.com/PDFs/PR/PRkit/ML_BayMaxPendant2.jpg.zip and the product webpage at http://www.maxlite.com/products/baymax-led-pendant-high-bays.

MaxLite's line of DLC-qualified BayMAX LED fixtures also includes Round Pendant High Bays and Linear High Bays.
MaxLite offers a comprehensive line of DLC-qualified indoor LED fixtures, including Direct Lit Flat Panel Performance Series, FlatMAX® Edge Lit Flat Panels, ECO-T™ Recessed Troffers and RKT Series Recessed Troffer Retrofit Kits.

About MaxLite (www.maxlite.com)
MaxLite has been committed to providing energy-efficient lighting products for the last 20 years, and was one of the first movers into LED technology in the industry. An ENERGY STAR® Partner of the Year, MaxLite established the MaxLED® brand, an extensive line of indoor and outdoor lighting fixtures and lamps using the latest state-of-the-art LED technology. Through MaxLite's innovative research and development capabilities in its California office and product assembly center in New Jersey, MaxLite continues to be at the forefront of energy-efficient technologies. For more information, call 800-555-5629, email info@maxlite.com, or follow us at https://twitter.com/maxlitenewsroom.

---