Product News: Electrical Equipment & Systems, Electronic Components & Devices
Keystone Panel Mount Couplers suit HDMI applications.
Press Release Summary: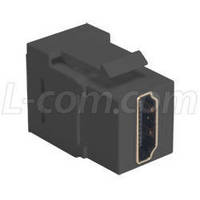 April 29, 2014 - Suitable for installation into panels, wall plate openings, and enclosures, HDMI Feed Through Keystone Couplers feature 15 µ in. gold-plated contacts that provide reliable connections with repeated mating cycles. Units are available in both black and white and are suitable for home theater, OEM HDMI designs, professional audio/video, and digital signage applications.
Original Press Release
L-com Offers Keystone Panel Mount Option for HDMI Applications
Press release date: April 17, 2014
NORTH ANDOVER, MA — L-com, Inc., a designer and manufacturer of wired and wireless connectivity products, announced today that they have added new keystone style HDMI couplers to their audio/video product line. Keystone style couplers are very popular as they can be easily installed into panels, wall plate openings and enclosures. These couplers are also compatible with any product that has standard keystone cut-outs.

"Keystone style couplers are a versatile and reliable option for many HDMI applications," said Steve Smith, Product Manager.

L-com's couplers are engineered to deliver high performance in a compact design. The HDMI Feed Through Keystone Couplers feature 15 micro-inch gold plated contacts that provide reliable connections with repeated mating cycles. The standard product is available in two colors: black and white. Customers who require custom colors can contact L-com directly to discuss the options that are available.

Applications where the keystone HDMI couplers would be commonly used are: home theatre, OEM HDMI designs, professional A/V and digital signage applications.

For more information about this release, please contact:
Peter McNeil
Product Marketing Manager
978-682-6936 x1450
pmcneil@l-com.com

About L-com Global Connectivity
L-com Global Connectivity, a global leader in the manufacture of wired and wireless connectivity products, offers a wide range of solutions and unmatched customer service for the electronics and data communications industries. The company's product portfolio includes cable assemblies, connectors, adapters, computer networking components, and custom products, as well as their HyperLink® brand of wireless products which include antennas, RF amplifiers, coaxial lightning and surge protectors, and NEMA rated enclosures. L-com's HyperLink® wireless products are designed for WiFi, WiMAX, SCADA, 802.11a/b/g/n/ac, RFID and Bluetooth applications. In addition to HyperLink®, L-com's other brands include MilesTek®, specialists in Military/Aeronautics connectivity solutions and Aiconics®, a leading manufacturer of electrical connector products.  Trusted for over 30 years, L-com, which is headquartered in North Andover, MA, is ISO 9001: 2008 certified and many of its products are UL® recognized For more information, please visit:  http://www.L-com.com/

Friendly & Knowledgeable Service ? In Stock Availability & Same Day Shipping ? 100% Satisfaction Guaranteed
Connect with L-com:   Twitter   Facebook   YouTube   Google +