Product News: Vision Systems
Iridotomy Lens facilitates laser glaucoma treatment.
Press Release Summary: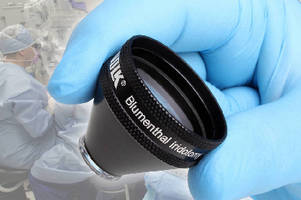 January 23, 2014 - By increasing access to periphery, Blumenthal Iridotomy Lens enables glaucoma treatment with minimal post-laser inflammation. Design of contact lens indents cornea to open angle and flatten peripheral iris. Precise positioning and sharply focused laser spot minimizes iris tissue collateral damage and distances cornea from iris to reduce risk of endothelial cell damage. Large lens housing optimizes lens grip and alignment for oblique viewing of entire chamber.
Original Press Release
Doctor-Developed Iridotomy Lens from Volk for Laser Glaucoma Treatment
Press release date: January 15, 2014
MUMBAI, -- Blumenthal Iridotomy Lens Design Next Generation for Iridectomy

Volk Optical has launched a new specialty lens for iridotomy procedures. Developed in conjunction with Eytan Blumenthal MD, the Blumenthal Iridotomy Lens design increases access to the periphery for more efficient glaucoma treatment with less potential for damage to surrounding tissues.

The design of the contact lens indents the cornea to open the angle and flatten the peripheral iris, delivering better patient outcomes with less post-laser inflammation. The Blumenthal Iridotomy's precise positioning and sharply focused laser spot minimizes iris tissue collateral damage and distances the cornea from the iris to reduce the risk of endothelial cell damage.

The Blumenthal Iridotomy lens improves over classic lenses, as it is the only lens with corneal indentation capability for enhanced viewing of the far periphery. Constructed using Volk's patented aspheric optics, the lens delivers better image quality and improved laser burn. Lower energy is required, reducing thermal collateral damage. The large lens housing improves lens grip and alignment for oblique viewing of the entire chamber.

Eytan Blumenthal, MD is Chairman of the Department of Ophthalmology at Rambam Health Care Campus (Hafia, Isreal). This is his second lens collaboration with Volk.

For more information about the Blumenthal Iridotomy lens from Volk, visit www.volk.com [http://www.volk.com , phone Volk direct at +1 440-942-6161, or contact your authorized Volk distributor.

Volk Optical is an industry leader in the design and manufacture of aspheric optics. Glass lens construction and the company's patented double aspheric technology result in the highest resolution imaging with the best stereopsis for precision diagnostic, therapeutic and surgical work. The company is based in Mentor, Ohio, USA and has representatives and distributors around the world.