Product News: Architectural and Civil Engineering Products
Insulated Shelter enables pipe fusions in extreme weather.
Press Release Summary: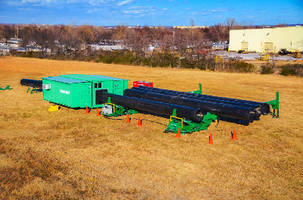 March 13, 2014 - With QuickCamp™ System, operators can butt fuse polyethylene pipe from 8 in. IPS to 36 OD within lighted, insulated, and climate-controlled enclosure when conditions are too wet, windy, hot, or cold to fuse pipe outdoors. Single operator can load and align pipe by remote control from inside shelter with MegaMc® PolyHorse®. Measuring 20 x 8 ft, QuickCamp folds out into 21 ft, 8 in. x 24 ft, 7 in. shelter housing hydraulically powered 1236/900 or 824/630 fusion carriage.
Original Press Release
McElroy Launches New QuickCamp System
Press release date: March 4, 2014
Shelter and pipe-handling system makes pipe fusions possible even in extreme weather

TULSA, Okla. -- Pipeline projects can be delayed significantly or completely shut down due to severe weather. But those obstacles are overcome with McElroy's launch of the new QuickCamp™ System.

The QuickCamp System allows operators to butt fuse polyethylene pipe from 8" IPS to 36" OD (225mm to 900mm) day or night within a lighted, insulated and climate-controlled enclosure when conditions are either too wet, windy, hot or cold to fuse pipe outdoors.

A single operator can load and align pipe by remote control from inside the shelter with the MegaMc® PolyHorse® allowing for increased productivity even in bad weather.

The heated and air-conditioned QuickCamp Shelter protects the fusion joint from the elements and keeps the operator comfortable and focused on the work at hand.

The QuickCamp also makes it much easier to fuse in accordance with ASTM standards which require special provisions when butt fusing in sub-zero weather, and it is a vast improvement over common provisions such as tents, hot air devices and heating blankets.

The QuickCamp Shelter is a 20' by 8' container that folds out into a 21'8" by 24'7" shelter housing a hydraulically-powered 1236/900 or 824/630 fusion carriage. It can be set up easily and quickly by two people. There is enough extra space inside for an office, breakroom or storage of extra gear. It also includes electrical outlets to power personal equipment.

The fusion carriage can be moved by up to 18" so that the pipe ends can be adjusted for proper face-off when pulling pipe through the shelter. It can also slide out of the shelter for in-ditch use or fusing stub ends and fittings.

The QuickCamp System includes the QuickCamp Shelter housing a 1236/900 or 824/630 fusion carriage, MegaMc PolyHorse, MegaMc Rollers and Pipe Stands. The shelter can be purchased separately.

More information is available at www.mcelroy.com/fusion.

Summary for Product Reviews and Spotlights
The QuickCamp™ System allows operators to fuse pipe from 8" IPS to 36" OD (225mm to 900mm) day or night during severe weather conditions in a climate-controlled shelter that protects fusion joints from the elements. A single operator can load and align pipe by remote control from inside the shelter with the MegaMc® PolyHorse® and MegaMc Rollers pipe-handling tools which are included in the QuickCamp System in addition to a 1236/900 or 824/630 fusion carriage. The carriage can be moved by up to 18" so that the pipe ends can be adjusted for proper face-off when pulling pipe through the shelter.

About McElroy Manufacturing, Inc.
Founded in 1954, McElroy Manufacturing has grown from a two-person start-up in an Oklahoma garage to the industry leader in the science of joining thermoplas¬tic pipe. The name McElroy is recognized worldwide as the most reliable, efficient, rugged and technically-advanced fusion equipment in the world. McElroy holds dozens of U.S. and foreign patents on fusion-related equipment. The company credits its marketplace leadership to an unyielding focus toward excellence. For additional information, please visit the McElroy website at www.mcelroy.com.

Contact Information:
McElroy PR and Marketing Department
Email: marketing@mcelroy.com
Office: 918.831.9286