Product News: Test & Measuring Instruments, Vision Systems, Robotics, Optics & Photonics
Infrared Cameras incorporate wireless connectivity.
Press Release Summary: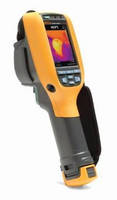 July 30, 2014 - Used for maintenance and troubleshooting by HVAC/R technicians, electricians, and facility managers, Ti90 and Ti95 come with SD memory system – including removable 8 Gb SD memory card or 8 Gb wireless SD Card. Spatial resolution lets technicians conduct IR inspections from safe distance without compromising accuracy, while 3.5 in. color LCD with adjustable brightness to optimize viewability. AutoBlend™ and Picture-in-Picture modes are available in included SmartView® reporting software.
Original Press Release
Fluke Ti90 and Ti95 Infrared Cameras are the Latest Additions to Fluke Connect - the World's Largest Wireless System of Test and Measurement Tools
Press release date: July 30, 2014
New infrared cameras deliver best-in-class image quality with up to 84 percent better spatial resolution than competitive models

EVERETT, Wash. – Fluke Corporation expands the Fluke Connect™ system with the new Ti90 and Ti95 Infrared Cameras with wireless connectivity making them ideal for maintenance, troubleshooting, and HVAC/R technicians, electricians, and facility managers who need to collaborate and share measurements with others on their team.

The Fluke® Ti90 and Ti95 deliver best-in-class image quality with up to 84 percent better spatial resolution (of handheld industrial infrared cameras priced $1,000- $2,000) allowing technicians to conduct infrared inspections from a safer distance without compromising accuracy. The 3.5-inch color LCD screen is up to 32 percent larger than other competitive models, with adjustable brightness for easy viewing in most conditions.

The infrared cameras come with an extensive SD memory system, including a removable 8 Gb SD memory card or 8 Gb wireless SD Card, allowing technicians who share cameras to simply swap SD cards at the end of their shift instead of needing to download images onto their PC before turning the camera over to the next technician.

The Ti95 features Fluke IR-Fusion® technology with Picture-in-Picture and full visible on both cameras for easier identification and reporting of problems. AutoBlend™ and Picture-in-Picture modes are available in the included SmartView® reporting software (both models), to easily perform analysis and image adjustments/enhancements.

Fluke Connect System
The Fluke Connect system allows maintenance technicians to wirelessly transmit measurement data from their test tools to their smart phones for secure storage on the cloud and universal team access from the field. More than 20 Fluke tools connect wirelessly with the app, including digital multimeters, infrared cameras, insulation testers, process meters, and specific voltage, current and temperature models. Fluke Connect ShareLive™ video call allows technicians to collaborate with others, letting them see the same images and measurements, and get approvals for repairs without leaving the field. The Fluke Connect app can be downloaded for free from the Apple App Store and the Google Play Store.

For more information about the Fluke Ti90 and Ti95 Infrared Cameras, visit: en-us.fluke.com/products/infrared-cameras/.

Fluke Corporation
For information on Fluke tools and applications, or to find the location of a distributor, contact Fluke Corporation, P.O. Box 9090, Everett, WA USA 98206, call (800) 44-FLUKE (800-443-5853), fax (425) 446-5116, e-mail fluke-info@fluke.com or visit the Fluke Web site at www.fluke.com.

About Fluke
Founded in 1948, Fluke Corporation is the world leader in compact, professional electronic test tools. Fluke customers are technicians, engineers, electricians, and metrologists who install, troubleshoot and manage industrial, electrical and electronic equipment and calibration processes.

Follow Fluke on Facebook, Twitter, Google+, YouTube or LinkedIn.

Fluke is a registered trademark of Fluke Corporation. The names of actual companies and products mentioned herein may be the trademarks of their respective owners. For more information, visit the Fluke website.

For more information:
Leah Friberg
(425) 446-5905
leah.friberg@fluke.com