Product News: Test & Measuring Instruments
Industrial Datalogger ensures reliable data collection, delivery.
Press Release Summary: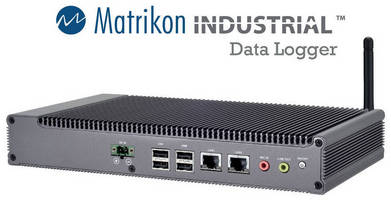 March 20, 2014 - Suited for capturing data at remote locations, Matrikon Industrial Data Logger connects securely to centralized historian and transfers data to it even in low-bandwidth or unreliable network conditions. Flexible, onboard data capture functionality enables selective, event-based data collection, and data compression minimizes bandwidth requirements. Offering third-party connectivity, this intelligent automation data gateway also enforces data integrity and confidentiality via encryption.

Original Press Release
Matrikon Releases Industrial Data Logger
Press release date: March 13, 2014
EDMONTON, ALBERTA – MatrikonOPC™ announced today the release of the Matrikon Industrial Data Logger, an intelligent automation data gateway that provides third-party connectivity, on-board data collection and intelligent data forwarding in a single box.

Ideal for capturing data at remote locations and forwarding it, the Matrikon Data Logger connects securely to a centralized historian and transfers data to it, even in low bandwidth or unreliable network conditions. The Matrikon Data Logger combines reliable data delivery, connectivity and secure access control in an easy to use, low-maintenance device.

"The Matrikon Industrial Data Logger simplifies an inherently complex store and forward problem by providing an all-in-one solution in a single appliance. Designed for remote applications, the Matrikon Data Logger is easy to deploy, use, and maintain." said Darek Kominek, marketing manager of MatrikonOPC.

Key benefits include:

• Selective, event based data collection thanks to flexible on-board data capture functionality;

• Low bandwidth requirements thanks to data compression;

• Data integrity and confidentiality enforced via data encryption;

• Reliable data delivery based on intelligent, loss free historical data transfer functionality.

To learn more about the Matrikon Industrial Data Logger, please navigate to: www.matrikonopc.com/data-connectivity-devices/industrial/industrial-data-logger.aspx

About MatrikonOPC
MatrikonOPC provides equipment data connectivity software and hardware based on OPC standards. The MatrikonOPC promise is to empower customers with reliable data access to all major automation vendors' systems, provide practical OPC training and deliver superior client care. MatrikonOPC builds close relationships with its customers to best address their business and technical needs. With offices in North America, Europe, Asia-Pacific and the Middle East, MatrikonOPC provides local presence on a global scale. MatrikonOPC is a vendor neutral connectivity supplier. Visit MatrikonOPC at www.MatrikonOPC.com.

For more information, contact:
Erin Leithoff
Regional Marketing Manager, MatrikonOPC
+1 780-448-1010 extension 4503
erin.leithoff@matrikonopc.com