Product News: Fluid & Gas Flow Equipment
Impeller Pumps feature drill driven design.
Press Release Summary: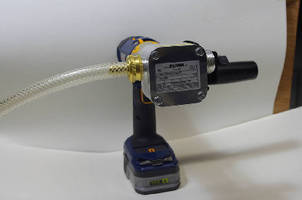 April 2, 2014 - With rated flows of 15.9 gpm and pressures to 58 psi, Series N2001 and U2001 are designed for oils, acids, bases, and water-based solutions. Series U2001, featuring aluminum body, is suitable for transferring clean or contaminated non-corrosive fluids, while Series N2001, constructed with 316L stainless steel housing, is best suited for corrosive fluids. Driven by standard electric or cordless drill, both are pulsation-free, dry self-priming from depth of 3 m, and can run dry for 60 sec.
Original Press Release
Drill Driven Impeller Pumps for Corrosive and Non-Corrosive Fluid Transfer Applications
Press release date: March 26, 2014
Series N2001 and U2001 Pumps rated to flows of 60LPM (15.9GPM), pressures to 4 BAR (58 PSI), designed for oils, acids, bases, and water based solutions.

Hudson, MA—Clark Solutions introduces two new lines of drill driven impeller pumps for corrosive and non-corrosive fluid transfer applications. The U2001 Drill Driven Impeller Pump is a great choice for transferring clean or contaminated non-corrosive fluids and features an aluminum pump body. The N2001 Series Drill Driven Impeller Pump features a 316L stainless steel housing and is best suited for transferring corrosive fluids.

Both U2001 and N2001 pump models are driven by a standard electric or cordless drill.

U2001 and N2001 Pumps are ideal devices for transferring water, cutting fluids and oils, antifreeze, acids, bases, and food products. Typical applications for U2001 and N2001 Pumps include filling or emptying oil sumps, solar collectors, cleaning tanks, irrigation systems, rain water harvesting systems, and decanting barrels.  Impeller materials on all models are constructed of NBR (Perbunan®, Buna-N®), EPDM (Keltan®, Buna EP®), CR (Neoprene®, Bayprene®), FKM (Viton®, Fluorel®), and Plastics (60ºC Max.).

U2001 and N2001 Pumps are offered in 30 LPM (793 GPM) and 60 LPM (15.9 GPM) models. These pumps are dry self-priming from a depth of three meters. Pre-filling is required for a suction depth greater than three meters with a maximum suction depth of 7 meters. These pumps can run "dry" for 60 seconds and are pulsation free.  U2001 and N2001 pumps also feature an easy maintenance design for cleaning and servicing work.

Clark Solutions has a fifty-year history of providing unique solutions to the control, measurement, and monitoring of flow, energy, pressure, force, and level in liquids and gases.  Located in Hudson, Massachusetts, the company offers a wide variety of pumps for liquids, gases, and air, including peristaltic pumps, piston pumps, diaphragm pumps, rotary vane pumps, gear pumps, impeller pumps, centrifugal pumps, and bellows pumps.  In addition, Clark offers instrumentation devices to record, monitor, and control flow, velocity, pressure, temperature, humidity, level, gas concentration, energy, and other properties. Clark Solutions also provides a wide range of valves, including pneumatic valves, inert isolation valves, solenoid operated valves, valve actuators, pinch valves, manifold valves, ball valves, globe valves, butterfly valves, needle valves, and miniature and subminiature valves. 

For more information, contact Clark Solutions, 10 Brent Drive, Hudson, MA 01749, Tel. 800-253-2497, Fax 978-568-0060, email sales@clarksol.com, or visit our web site at http://www.clarksol.com.

Product URL:  http://www.clarksol.com/html/N2001_U2001Pumps.cfm