Product News: Sensors, Monitors & Transducers
Image Sensor targets advanced driver assistance systems.
Press Release Summary: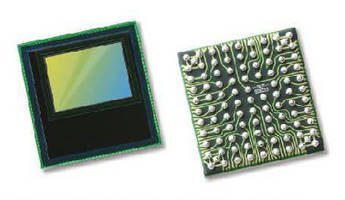 January 9, 2014 - Delivering high dynamic range up to 120 dB while maintaining low-light sensitivity of 15 V/Lux-sec, OV10626 AutoVision Sensor ensures quality images are captured, even in extremely challenging lighting conditions. Single-chip, automotive-grade device supports both NTSC analog and digital outputs, as well as dual dynamic overlay functions.
Original Press Release
OmniVision's New OV10626 AutoVision Sensor Redefines Rear- and Surround-View Automotive Vision Systems
Press release date: January 6, 2014
First Automotive-Grade Image Sensor to Deliver Both High Dynamic Range and High Sensitivity

SANTA CLARA, Calif., -- OmniVision Technologies Inc. (NASDAQ: OVTI), a leading developer of advanced digital imaging solutions, sets a new standard in automotive imaging today with the launch of the OV10626 AutoVision sensor. The single-chip OV10626 incorporated advanced imaging concepts to deliver exceptional high dynamic range (HDR) while maintaining excellent low-light sensitivity, making it an ideal camera solution for advanced driver assistance systems (ADAS).

"This unique system-on-a-chip solution gives OmniVision a quantum leap forward in automotive imaging," said Inayat Khajasha, senior product marketing manager for automotive products at OmniVision. "Conventionally, HDR and high sensitivity have been mutually exclusive in automotive imaging. With the OV10626, however, we now offer both features in a compact, single-chip solution."

The OV10626 supports both NTSC analog and digital outputs, as well as dual dynamic overlay functions. The sensor's color HDR of up to 120 dB and low-light sensitivity of 15 V/Lux-sec ensure that clear, high-quality images are captured, even in extremely challenging lighting conditions.

The OV10626 is packaged in OmniVision's proprietary AutoVision chip-scale package (aCSP(TM)), which is the industry's most compact and efficient package available.

About OmniVision
OmniVision Technologies (NASDAQ: OVTI) is a leading developer of advanced digital imaging solutions. Its award-winning CMOS imaging technology enables superior image quality in many of today's consumer and commercial applications, including mobile phones, notebooks, tablets and webcams, digital still and video cameras, security and surveillance, entertainment devices, automotive and medical imaging systems. Find out more at www.ovt.com.

OmniVision® and the OmniVision logo are registered trademarks of OmniVision Technologies Inc. CameraChip(TM) and aCSP(TM) are trademarks of OmniVision Technologies Inc. All other trademarks are the property of their respective owners.

CONTACT: Company: Scott Foster, OmniVision Technologies, 408.567.3077, sfoster@ovt.com