Product News: Sensors, Monitors & Transducers
Image Sensor offers 5 MP resolution for mobile devices.
Press Release Summary: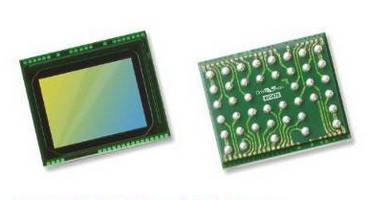 May 15, 2014 - Measuring 6 x 6 x 3.5 mm with 1/5 in. optical format, OV5670 1.12-micron PureCel™ Image Sensor is suited for both front- and rear-facing camera applications in smartphones and tablets. Device can capture full resolution 5-megapixel (2592 x 1944) images at 30 fps, quad HD video at 30 fps, cropped 1080p HD at 60 fps, or 720p HD at 60 fps. When recording 720p HD video with binning, sensor achieves sensitivity and signal-to-noise ratio comparable to 1.75-micron pixel-based sensors.
Original Press Release
OmniVision's OV5670 Offers 5-Megapixel Upgrade Solution For Rear- and Front-Facing Cameras in Mobile Devices
Press release date: May 6, 2014
New PureCel(TM) Image Sensor Leverages 1.12-micron Pixel for Improved Performance and Smaller Die Size

SANTA CLARA, Calif. -- OmniVision Technologies, Inc. (NASDAQ: OVTI), a leading developer of advanced digital imaging solutions, today announced the high-performance OV5670, the company's first 1.12-micron 5-megapixel PureCel(TM) image sensor. The low-power OV5670 delivers exceptional still images and high-definition video in an ultra-compact, 1/5-inch optical format form factor, making it an attractive camera solution for both front- and rear-facing camera applications in smartphones and tablets.

"The OV5670 is uniquely positioned in that it brings tremendous value and performance to camera applications on both sides of a mobile device. Its compact form factor and small optical format allow manufacturers to easily upgrade camera resolutions from 2-megapixel to 5-megapixel for main cameras in feature phones, and for front- and rear-facing cameras in smartphones and tablets," said Archie de Guzman, senior product marketing manager at OmniVision. "The popularity of mobile software applications focusing on video-conferencing has fueled consumer demand for higher-resolution front-facing camera solutions that also meet the space constraints of today's mobile devices. OV5670 provides an ideal solution."

The OV5670 PureCel image sensor can capture full resolution 5-megapixel (2592 x 1944) images at 30 frames per second (FPS), quad HD video at 30 FPS, cropped 1080p HD at 60 FPS, or 720p HD at 60 FPS. When recording 720p HD video with binning, the sensor achieves sensitivity and signal-to-noise ratio that is comparable to popular 1.75-micron pixel-based sensors. Additionally, the sensor's 1.12-micron pixel achieves similar full-well capacity as OmniVision's previous generation 1.4-micron pixel.

When the OV5670 is recording full resolution video, it uses approximately 35 percent less power than OmniVision's previous generation 5-megapixel sensor. The sensor's ultra low power mode further reduces power consumption, thus minimizing battery drain.

The OV5670 fits into a compact 6 x 6 x 3.5 mm camera module.  The device is available in both CSP and RW packages. It is currently in volume production.

About OmniVision
OmniVision Technologies (NASDAQ: OVTI) is a leading developer of advanced digital imaging solutions. Its award-winning CMOS imaging technology enables superior image quality in many of today's consumer and commercial applications, including mobile phones, notebooks, tablets and webcams, digital still and video cameras, security and surveillance, entertainment devices, automotive and medical imaging systems. Find out more at www.ovt.com.

OmniVision® and the OmniVision logo are registered trademarks of OmniVision Technologies, Inc. PureCel(TM) is a trademark of OmniVision Technologies, Inc. All other trademarks are the property of their respective owners.

CONTACT:
Company Contact:
Scott Foster
OmniVision Technologies
408.567.3077
sfoster@ovt.com