Product News: Vision Systems, Robotics, Optics & Photonics
IP Cameras suit range of surveillance applications.
Press Release Summary: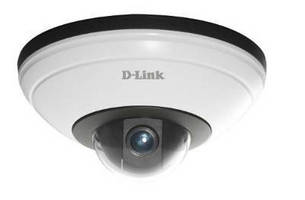 July 29, 2014 - Providing 1920 x 1080 resolution, 2 megapixel DCS-5615 Indoor Pan/Tilt Dome Camera features motorized pan/tilt mechanism and 4 mm fixed focal length lens within compact indoor dome. Unit provides 360° pan and 80° tilt at 101°/sec. Equipped with 2.8–12 mm varifocal lens, 1 megapixel DCS-6315 Outdoor Dome Camera offers 1280 x 720 resolution and allows users to see detail in low light while remaining in color. Both have microSD card slot and 802.3af compliant PoE module.
Original Press Release
D-Link Expands IP Camera Line with New Color Night Vision and Pan/Tilt Dome Cameras
Press release date: July 23, 2014
Surveillance Cameras Offer Professional Quality, Advanced Features and Small Form Factors

FOUNTAIN VALLEY, Calif., – D-Link today introduced two new IP cameras - a two megapixel Full HD Indoor Pan/Tilt Dome Camera (DCS-5615) and a one megapixel HD Outdoor Dome Camera with Color Night Vision (DCS-6315), both delivering high definition resolution and a full suite of image and management features designed to meet a range of customer surveillance needs.

"Dome cameras continue to be the most popular form factor in the surveillance market," said Vance Kozik, director of marketing for IP Surveillance, D-Link Systems, Inc. "The introduction of these two new IP cameras expands the range of offerings and performance capabilities available with D-Link's line-up of dome cameras, offering high definition video and an advanced feature set within a smaller form factor for a great overall value."

Boasting 1920 x 1080 resolution, the DCS-5615 features a motorized pan/tilt mechanism and wide angle lens within a compact indoor dome. Well suited for small business applications where remote viewing requires the ability to pan and tilt the camera, the DCS-5615 is an attractively priced solution in a compact form factor that blends well into any indoor environment. An integrated microphone allows users to optionally listen and record audio in addition to video(1).

The DCS-6315 rugged outdoor network camera offers 1280 x 720 resolution with enhanced imaging sensitivity, allowing users to see greater detail in low light while remaining in color. For very low light or completely dark environments, the DCS-6315 can operate in black and white mode and illuminate the scene with its built-in infrared LED illuminators.

For added flexibility, both cameras include an integrated microSD card slot for local "in camera" recording of event-triggered video clips and snapshots for later review using a web browser. Also featured in both cameras is H.264, MPEG-4 and MJPEG compression, multiple independent streaming profiles and ONVIF compliance. With the included D-ViewCam™ software, users can also view, manage and record up to 32 cameras on a single computer in a central location, as well as receive e-mail alerts if motion or digital input devices are detected.

More about the DCS-5615:

--  Two Megapixel Full HD resolution (1920 x 1080)
--  360°  pan (+180° to -180° ) and 80° tilt at 101°/second
--  4mm fixed focal length lens (77° field of view)
--  Built-in 802.3af compliant PoE module for easy installation in a variety of locations without the need for supplemental power cabling

More about the DCS-6315:

--  One Megapixel HD resolution (1280 x 720)
--  Color night vision with enhanced low light capabilities(0.1 Lux in Color, 0.02 Lux in B&W)
--  Infrared LED night vision with viewing up to 45 feet
--  2.8 to 12mm varifocal lens (90° to 28°  field of view)
--  Enclosure is IP68-rated (weatherproof) and IK10-rated (vandal-proof)
--  Five year warranty
--  Built-in 802.3af compliant PoE module for easy installation in a variety of locations without the need for supplemental power cabling

Pricing & Availability
The DCS-5615 and DCS-6315 are available now for a manufacturer's suggested price of $479.99 and $649.99, respectively. D-Link's IP surveillance cameras are sold through D-Link's vast network of channel partners, including value-added resellers, solution providers and distributors. Detailed specifications and information about D-Link's complete IP surveillance line are available at http://www.dlink.com/us/en/business-solutions.

About D-Link
D-Link is the global leader in connectivity for home, small business, mid-to large-sized enterprise environments, and service providers. An award-winning designer, developer, and manufacturer, D-Link implements and supports unified network solutions that integrate capabilities in switching, wireless, broadband, storage, IP Surveillance, and cloud-based network management. For more information visit www.dlink.com, or connect with D-Link on LinkedIn (http://www.linkedin.com/company/d-link ) and Spiceworks (http://community.spiceworks.com/networking/d-link).

D-Link, the D-Link logo and D-ViewCam are trademarks or registered trademarks of D-Link. All other third-party marks mentioned herein may be trademarks of their respective owners.

© 2014 D-Link. All Rights Reserved.

(1) Use of audio or video equipment for recording the image of a person without their knowledge and consent is prohibited in certain states or jurisdictions. The end-user assumes all liability for compliance with applicable state, local and federal laws.

CONTACT:
Daniel Kelley
D-Link Systems, Inc.
714.885.6318
dan.kelley@dlink.com

Web Site: http://www.dlink.com