Product News: HVAC, Controls & Controllers
Hybrid Temperature Control suits commercial cooking appliances.
Press Release Summary: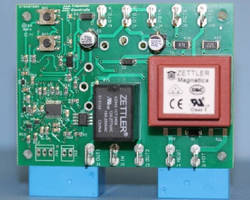 August 12, 2014 - Equipped with analog to digital converting microcontroller and precision voltage reference, Hybrid Temperature Control is calibrated by depressing tactile switch, with control dial set to 350°F. Auto calibration is nominally accurate to within ±2° of dial set point. If more accuracy is desired, second tactile switch allows multiple offsets of ±1.5°F higher or lower, up to ±20°F. LED based control diagnostics help indicate operating mode and diagnose control system faults.
Original Press Release
New Hybrid Temperature Control for Commercial Cooking Appliances
Press release date: August 8, 2014
Bensenville, IL — Capable Controls Inc. has recently developed a new more user, and service friendly temperature control, commonly used in commercial cooking appliances. Several features set the hybrid design apart from the typical analog based controls; most obvious is a pair of LED's, and two small tactile switches mounted to the back of the surface mount circuit board. The control also utilizes an analog to digital converting microcontroller, and precision voltage reference. The combination of these technical improvements yields a digital, and more precise, and repeatable method of temperature control.

Analog control types rely on a potentiometer to adjust the reference set point of the control, at the plant or in the field the pot is rotated until the control turns on, and off giving the technician a rough idea that, the control is switching at the desired set point temperature, usually 350° F. This works well, but after shipping, aging, vibration, and environmental conditions, the control usually requires a service call for re-calibration. This is where the hybrid digital approach resolves many of these problems. To calibrate the Capable Controls device, all that's required is to depress one of the tactile switches, with the control dial set to 350° F, nominally the mid-point of total range. The control now remembers this is the 350° point, and is not subject to conditions that affect the set point of analog type control(s). This Auto calibration is nominally accurate to within ±2° of the dial set point. If more accuracy is desired the second tactile switch allows multiple offsets of ±1.5°F higher or lower, up to ± 20° F. This corrects for variations/offsets in temperature sensors, and mounting location.

The control also provides LED based control diagnostics to help indicate operating mode, and diagnose control system faults such as a shorted or open temperature sensor. Other types of temperature sensors are offered such as RTD`s and Thermistors. The control is equipped with a heavy duty 16A, 120/230V relay, for long operational life. This control has been submitted to be approved to UL-873 and is proudly made in U.S.A.

790 Maple Lane
Bensenville, IL 60106 
info@capablecontrols.com  
www.capablecontrols.com