Hotel Smart Guestbook System facilitates visitor management.
Press Release Summary: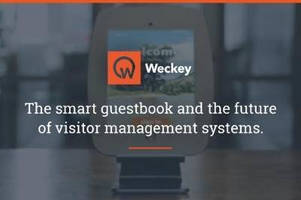 August 14, 2014 - By securely storing guest information in cloud for visibility on who is coming in and out of office, Weckey improves office security via time-stamped records and photo of each visitor. Guests and visitors check in using app on iPad installed in lobby, and business connection receives text or email notification of arrival complete with guest's name and photo. For additional security, Weckey prints identification badge for visitor with name and photo.
Original Press Release
Telect Spins Out Weckey, the Smart Guestbook and "Future of Visitor Management Systems"
Press release date: August 12, 2014
LIBERTY LAKE, Wash. -- Telect, a global leader in data center and telecom network infrastructure equipment manufacturing, headquartered in Liberty Lake, Washington, announces the spin out of Weckey, the smart guestbook and visitor management system.

"I love to simplify things. I saw where we could streamline processes with a reception-less lobby, and the Weckey team pursued and implemented that vision with a smart guestbook application," said Wayne Williams, Telect President and CEO, Weckey Co-Inventor, and Chairman of the Board for Weckey.

"Every lobby should have a smart guestbook sign-in and a confidential, secure way to manage guest traffic," said Mitch Williams, Weckey President and CEO. "Weckey improves office security, with time-stamped records and a photo of each visitor. Weckey also securely stores guest information in the cloud, for visibility on who is coming in and out of the office. We're inspiring efficiency with this twenty-first century guestbook."

Guests check in using the Weckey app on an iPad installed in a business' lobby, rather than requiring the assistance of a receptionist or front desk person. "The receptionist is freed from the front desk and can now focus his or her time on more valuable tasks and add to your company's overall productivity," said Mitch Williams. "Weckey has saved hours of time that were previously wasted on telling a guest the date and time, calling an employee to tell them a guest has arrived, physically tracking down an employee, and then attempting to refocus efforts to get back into the groove, only to be interrupted again the next time a guest arrives."

When a guest or visitor signs into Weckey, the business connection receives a text or email notifying them of the guest's arrival. The notification includes the guest's name and photo. For additional security, Weckey also prints an identification badge for the visitor with the visitor's name and photo.

"Security is a huge issue today," said Wayne Williams. "Weckey provides a security barrier, and it has also helped us, at Telect, manage the Customs-Trade Partnership Against Terrorism (C-TPAT) security criteria for the Department of Homeland Security."

Weckey is currently available on the App Store for iPad and has been beta-tested in several markets, including education, bio-med/tech, telecom, marketing software, and coworking environments. "We're getting great feedback and pushing forward with new developments each day," said Mitch Williams.

"There are other visitor management systems on the market," said Wayne Williams, "but they are expensive kiosk-based systems rather than our economical software as a service (SaaS) on an iPad. This is the future of visitor management systems.

"It is with great excitement that we, at Telect, get to participate as an investor in the Weckey startup," continued Wayne Williams. "Mitch Williams, President and CEO of Weckey, has his fingerprints all over this, and the work that he and his team have done is stellar."

About Telect
Headquartered in Liberty Lake, Washington, with manufacturing facilities in Plano, Texas and Guadalajara, Mexico, Telect designs, manufactures, and integrates copper, fiber, power, and rack network infrastructure equipment. You'll find Telect equipment solutions in telecom, data center, CATV, utility, and enterprise networks around the globe. Telect is standardized with every major carrier. We simplify networks(TM). 509.926.6000. www.telect.com

About Weckey
Headquartered in Liberty Lake, Washington, Weckey is a smart guestbook and visitor management system for businesses. Weckey stores guest traffic securely in the cloud and sends notifications to whomever the guest is visiting. Weckey leads in connecting people in the technology, communication, marketing, and education markets with 21(st) century technologies that automate the mundane process of checking in and allow businesses to gain greater value from their people. 415.890.3358. www.weckey.com

CONTACT: Katie Morman, Marketing & Communications Manager, 509.921.6393, katie.morman@telect.com