High-Torque Gearhead incorporates low-voltage PMDC gearmotor.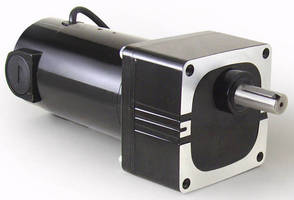 High-Torque Gearhead incorporates low-voltage PMDC gearmotor.
September 14, 2010 - WX high-torque gearhead is available with two 33 A permanent magnet DC (PMDC) motors with 12/24 or 90/130 Vdc winding. Both totally enclosed, non-ventilated motors feature permanently lubricated ball bearing construction, steel housing, and copper graphite brushes. All-steel gear trains, designed to AGMA 9 standards, and synthetic lubricants lend to torque production capability. There are 48 stock models, which cover 12 gear ratios from 4:1 to 312:1 and output speeds from 658-2.9 rpm.

(Archive News Story - Products mentioned in this Archive News Story may or may not be available from the manufacturer.)
Original Press release

Bodine Electric Company
201 Northfield Rd.
Northfield, IL, 60093
USA



Bodine Electric Launches New 90/130 VDC and Low-Voltage 12/24 VDC Permanent Magnet DC Gearmotors with new WX Gearhead


CHICAGO, IL - The new WX gearhead is now available with two 33A permanent magnet DC (PMDC) motors. The WX is a high-torque gearhead built to provide longer life and higher performance than similar gearmotors in the same size range. These gearmotors are designed to drive applications such as conveyor systems, packaging equipment, metering pumps, medical devices, commercial appliances, and solar powered outdoor equipment.

The WX gearmotors feature new all-steel gear trains and synthetic lubricants, allowing the WX to produce up to 65% more torque than previous models. The steel gearing is designed to meet or exceed AGMA 9 standards to assure the quiet operation that is expected from Bodine Electric products. The synthetic lubricant improves efficiency and allows these gearmotors to operate in a wide temperature range. Accessories include a bolt-on adaptor to convert the gearhead to 3-point mounting pattern, as well as an "L"-braket for flexible mounting and a IP-44 protection kit. Forty-eight new stock models feature 12 available gear ratios, ranging from 4:1 to 312:1, and rated output speeds from 658 to 2.9 RPM.

A new low-voltage type 33A PMDC motor with a winding rated 12/24 VDC and a standard 90/130 VDC motor are available to power the WX gearhead. Both motors provide high starting torque and linear speed torque characteristics. They feature permanently lubricated ball bearing construction for maintenance-free operation, as well heavy gauge steel housing and copper graphite brushes. The motors are Totally Enclosed, Non-Ventilated (TENV) and contain a Class F rated insulation system. Their windings are resin-impregnated to provide reliable performance in the most demanding applications. The motor armatures are designed to minimize cogging and to operate quietly. "Accessory ready" models allow for easy external mounting of encoders or brakes.

"With 'green' applications becoming more and more common, we're particularly proud that this new line of gearmotors includes so many low-voltage stock models with either PMDC or BLDC winding options." -- Michael Gschwind, V.P. of Sales and Marketing.

Bodine Electric Company also manufactures a range of PMDC motor speed controls. When customers purchase a 33A-WX with a Bodine control, they get a complete drive package from a single source, as well as an extended 2-year system warranty. All standard Bodine products are available for instant shipping, and can be ordered via a network of national and international authorized distributors.

About Bodine Electric Company
Bodine Electric Company is a leading manufacturer of high-performance fractional horsepower gearmotors (less than 1HP / 746 Watts), motors and motor speed controls in North America. Bodine Electric offers over 1,000 standard products, and thousands of custom designed gearmotors, motors and motion controls (AC Fixed Speed, AC Variable Speed, Brushless DC, and Permanent Magnet DC). Bodine products are available via an extensive distributor network or sold directly to OEMs. Known for their reliability, long life and competitive prices, Bodine gearmotors are found in many demanding industrial and commercial applications, such as, medical devices, scientific and laboratory equipment, labeling equipment, printing presses, packaging equipment, and factory automation. Bodine is headquartered in Chicago, Illinois with manufacturing and assembly operations in Peosta, Iowa, U.S.A. www.bodine-electric.com.

Marketing Contacts: Avis Weisman (773) 478-3515, ext. 409 - Marketing Coordinator; or Edmund Glueck, Manager - Marketing and Product Development, ext. 361.

Gearmotor Features Include:

Rugged, all steel helical gears meet or exceed AGMA-9 standards.

Synthetic lubrication allows these gearheads to operate over a wide temperature range.

Can be configured to 3-hole mounting pattern via a simple bolt-on adaptor.

Available with a complete line of new AC (3-wire reversible), PMDC, and brushless DC motors.

---