High-Pressure Solenoid Valve suits CNG dispensing applications.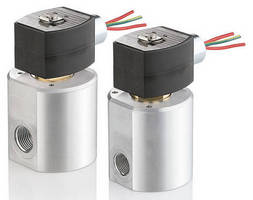 High-Pressure Solenoid Valve suits CNG dispensing applications.
August 28, 2013 - Featuring rugged construction and internal design tailored to meet industry requirements for solenoid valves, ASCO 291 Series serves compressed natural gas (CNG) dispensing applications. Each valve safely withstands pressures exceeding 5,000 psi and consumes 12 W of power. Flow rate permits accelerated vehicle fueling and promotes reliability, reducing maintenance and down time. Products come in 3 pipe sizes — 3/8, ½, and 1 in. — as well as 3- and 6-station manifold versions.

Original Press Release

ASCO Numatics
50-60 Hanover Road
Florham Park, NJ, 07932
USA



ASCO Introduces High-Pressure Solenoid Valve for Compressed Natural Gas (CNG) Dispensing Applications


FLORHAM PARK, NEW JERSEY, U.S.A. – ASCO Numatics, the world leader in fluid automation solutions and controls for fuel dispensing applications, has introduced in North America the ASCO 291 Series of high-pressure solenoid valves for compressed natural gas (CNG) dispensing applications.

"As CNG becomes a popular fuel in commercial fleets and personal vehicles, the demand for fueling stations is expected to rise dramatically," said Robert W. Kemple, Jr., executive vice president, sales and marketing - Americas, ASCO Numatics. "The Series 291 valve is specifically designed for CNG dispensing equipment in North America. Few valves on the market have the high flow and pressure ratings, plus the low power consumption, that are critical to design engineers at CNG station packagers and dispensing manufacturers."

Solenoid valves play a key role controlling CNG flow in dispensing equipment. The 291 Series' rugged construction and unique internal design are tailored to meet the industry's unique requirements for solenoid valves. It safely withstands pressures of over 5,000 psi, provides superior flow rates, and consumes only 12 watts of power.

"Dispensing equipment manufacturers will benefit from our CNG valve line's small size, great fit, and low power consumption, plus the high quality that only ASCO can provide," said Kemple. "Station packagers will value our high flow rate that permits faster vehicle fueling and exceptional reliability that reduces maintenance and down time."

The 291 Series valves are offered in three pipe sizes — 3/8 inch, ½ inch, and 1 inch — plus three-station and six-station manifold versions.

Customers can access Emerson ASCO's worldwide technical and application support through its distributors, field sales representatives, and the company's technical support center via phone and the Web.

The ASCO 291 Series CNG valves can be ordered from ASCO distributors or directly from the company in the U.S., Canada, and Mexico. For more information, contact ASCO at 800-972-ASCO, by e-mail at info-valve@asco.com, or visit http://www.ascovalve.com/CNG.

About ASCO Numatics

ASCO Numatics, an Emerson company, offers comprehensive fluid automation solutions, including fluid control and fluid power products, for a wide range of industry-focused applications. The ASCO Numatics product line in North America consists of more than 50,000 valves, an extensive selection of air preparation equipment, and a full line of actuation products. ASCO products include solenoid pilot valves, angle body piston valves, linear indicators, redundant control systems, and pressure sensors. The Numatics line covers valve manifolds, cylinders, grippers, filters, regulators, and lubricators. For more information about ASCO Numatics products, visit http://www.asconumatics.com

About Emerson

Emerson (NYSE: EMR), based in St. Louis, Missouri (USA), is a global leader in bringing technology and engineering together to provide innovative solutions for customers in industrial, commercial, and consumer markets around the world.  The company is comprised of five business segments: Process Management, Industrial Automation, Network Power, Climate Technologies, and Commercial & Residential Solutions.  Sales in fiscal 2012 were $24.4 billion.  For more information, visit www.Emerson.com.

---