Product News: Electronic Components & Devices
High Current Inductors suit switched mode power supplies.
Press Release Summary: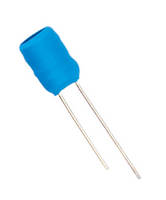 January 23, 2014 - Offering 259 industry standard inductance values ranging from 3.9–270,000 µH, Series RL-5480HC boasts current capabilities up to 9.50 A and saturation current as high as 24.5 A. Small size and staggered lead length facilitate PCB insertion. Operating from -40 to +130°C, inductors are suited for switched mode power supply applications, including output filtering and EMI suppression.
Original Press Release
Renco Electronics Expands Popular 5480 Product Line with Small High Current Version
Press release date: January 15, 2014
Rockledge, Fla. –  Renco Electronics, an electronic component design and manufacturing company headquartered in Rockledge, Florida, announces the release of the company's high current version of the best selling product in compact form, the RL-5480HC.

Under the slogan, "smaller is better", Renco debuted the RL-5480HC. The inductor's high saturation materials allow for ideal use in switched mode power supply applications including Output filtering and EMI suppression.

Supporting switched-mode power supply design, the small size and staggered lead length of the RL-5480HC allow for easy PCB insertion.

Known for its broad inductance options, the RL-5480HC series offers 259 industry standard inductance values ranging from 3.9μH to 270,000μH. The series also boasts current capabilities up to 9.50 A and a saturation current as high as 24.5 A.

In addition, the RL-5480HC operates effectively within the same wide temperature range of -40°C to +130°C as the RL-5480 providing tremendous flexibility to perform in just about any environment.

The RL-5480HC is available in ammo pack for auto insertion. Prices start as low as $0.08 based on ordering quantity. To learn more about this new product, visit www.RencoUSA.com/RL5480HC.

About Renco Electronics
Since 1955, Renco Electronics has remained a leading electronics manufacturer, determining the best solution for meeting diverse power needs. Renco magnetic components are found inside a wide range of products from household appliances and LED lights to back up generators on the international space station. Regardless of quantity, Renco can rapidly fulfill all of your orders. The company has manufacturing operations in the U.S. and Asia. Visit www.RencoUSA.com for more information.

Media Contact:
Caroline Kempf
CK Communications, Inc. 
321.752.5802 
caroline@ckc411.com