Product News: Material Handling & Storage
Heavy-Duty Hoists operate at 77 dB(A) while lifting.
Press Release Summary: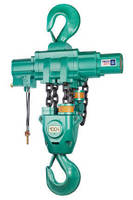 February 26, 2014 - Featuring air motor unit that has integrated brake system with stepped brake piston and self-lubricating rotor, Profi 75 TI and Profi 100 TI offer respective SWL capacities of 75 and 100 metric tons. Motor provides 9 kW output in standard configuration of 6 bar air pressure supply. Respectively, compressed air consumed is 7.6 and 6 m³/min at full load lifting and lowering capacities. Lifting speeds are 0.53 m/min (Profi 75 TI) and 0.4 m/min (Profi 100 TI) at full load.
Original Press Release
Re-Design and Relaunch of J D Neuhaus Heavy Duty Engineering Profi Hoists
Press release date: February 18, 2014
As a completion of the re-design project for their Profi range of air operated hoists, the J D Neuhaus company have now launched their new, innovative Profi 75 TI and Profi 100 TI hoists, offering SWL capacities of 75 and 100 metric tons respectively. Existing products in the Profi range cover lift capacities from 550lbs up to a full 60 metric tons, ideally suited to engineering environments.

The latest introductions, which incorporate savings in energy requirements as well as reductions in both weight and overall size dimensions, cover the demanding requirements of heavy engineering working conditions. The key component of these hoists is a new air motor unit, based on the well-proven J D Neuhaus motor-brake concept and incorporating a patented integrated brake system, with a stepped brake piston and a reliable self-lubricating rotor. In the standard configuration of a 6 bar air pressure supply, the motor provides a 9kW power output, adequate for the operation of either hoist while still providing significant energy reductions.

At full nominal lift capacities (75 or 100 metric tons), the compressed air consumed is 7.6m3/min which represents in excess of 30% saving over the hoists being replaced. On lowering of full loads, the air consumed is 6m3/min, which represents an impressive full 50% saving over the power/energy consumption of the hoists being replaced. The new hoists are designed with machinery group classification according to ISO 4301/FEM 9.5 II is M3/1Bm, which is good for 400 hours full load operation.

Although the overall air consumption has been reduced significantly, the lift and lower speeds with/without loads have been increased compared with the previous models of hoists, which helps to reduce handling and to increase production outputs over a full working day. The lifting speeds at full load have increased from 0.45 to 0.53m/min (Profi 75 TI) and 0.35 to 0.4m/min (Profi 100 TI). Lifting speeds without a load increase from 0.85 to 1.33m/min (Profi 75 TI) and from 0.7 to 1.0m/min (Profi 100 TI). The lowering speeds at full load have also benefited, increasing from 1 to 1.25m/min (Profi 75 TI) and from 0.8 to 0.95m/min (Profi 100 TI). Computer simulations like CFD were utilized throughout the development processes, with all simulation results validated in various praxis tests to achieve energy savings up to 50%, depending upon the operating conditions.

The combination of optimized material selection and modern design methods has also achieved significant weight reductions for the new hoists. This ensures that the relation between hoist unit weight and safe working loads is much better than with the superseded hoist designs. An overall weight saving of 1650lbs has been achieved for the Profi 75 TI, and 1410lbs for the Profi 100 TI. Some reductions in size have also been achieved, particularly that between the load bearing surfaces of the load and suspension hooks. Significant reductions in sound levels during operation have also been achieved, with the new hoists registering 77 dB(A) at full load lifting and 83 dB(A) on the lowering operation.

Lifting and lowering motor limiters incorporating a pneumatic pin valve design are also available as optional extras for both hoists.

Further information is available on request to:
J D Neuhaus L.P., 9 Loveton Circle, MD 21152 Sparks, USA
Contact: Peggy Weber  e-mail: p.weber@jdneuhaus.com
Office Phone: 1-888- NEUHAUS www.jdngroup.com

Join the JDN Community  facebook.com/jdneuhaus www.jdngroup.com/plus

Company information

J D Neuhaus are a privately-owned company, founded in 1745, and for over 265 years they have been using their expertise and experience to manufacture the highest quality hoists, winches and cranes.

Their products offer solutions to almost every material handling problem irrespective of the driving medium: from air, manual and hydraulic hoists up to complete crane installations with explosion proofness.

JDN products are used in a wide variety of industries including:
Airplane Yards; Atomic/Coal Power Stations; Big Bag Handling; Cement Industry; Chemical Industry;
Crane Manufacturers; Dairies; Food Industry; Foundries; Galvanization; Glass/Ceramics; Large Kitchens;
Leather Plants; Locks; Machine and Plant Construction; Mining; Motor Car Industry; Offshore/Onshore;
Oil Storage; Over/Underground Construction; Paints and Varnish; Painting and Coating Installations;
Paper Industry; Pharmaceutical Industry; Printing Industry; Pyrotechnics Industries; Refineries; Sawmills; Shipbuilding and Shiprepair Yards; Ships; Space Technique; Spray Booths; Steel Works; Surface Technique;
Tank Cleaning Devices; Textile Industry; Tunnel; Tire Manufacturers; Vacuum Technique

Contact J D Neuhaus

J D Neuhaus are represented in more than 90 countries and over 70 branches Worldwide.

USA
J.D. Neuhaus L.P., 9 Loveton Circle, MD 21152 Sparks, USA
Tel: +1-410 472-0500   Fax: +1-410 472-2202
e-mail: info@jdneuhaus.com  www.jdngroup.com