Product News: Test & Measuring Instruments
Handheld IR Temperature Meters measure up to 1,832°F.
Press Release Summary: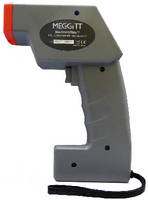 July 8, 2014 - Using laser sighting for accurate detection, MachineryMate® MAC050 and MAC100 read temperatures of hard to reach or moving machinery and include K-type thermocouples for applications where emissivity is unknown. Model MAC100 is capable of Bluetooth connectivity for data streaming, analysis, and trending, and has user selectable emissivity. Common applications include dryer sections and blowers of paper machines and bearing temperature in compressors, motors, pumps, and fans.
Original Press Release
Meggitt Offers New Handheld IR Temperature Meters
Press release date: June 19, 2014
Germantown, MD – The handheld thermometers read temperatures of hard to reach or moving machinery for a variety of industrial applications. The MAC050 and MAC100 add to the MachineryMate® line of tools used to assist in machinery health.

Using laser sighting for accurate detection, the rugged thermometers can measure up to 1832° F (1000° C). Also capable of contact readings, the meters are supplied with K-type thermocouples for applications where emissivity is unknown. The high performance MAC100 is capable of Bluetooth connectivity for data streaming, analysis and trending, and has user selectable emissivity.

MAC meters are an affordable and safe solution for obtaining temperature data. Machine equipment conditions can be quickly gauged, reducing unplanned downtime and increasing efficiency.

Common applications:
Paper machines, steel processing – dryer sections, hot strip measurements, blowers
General machinery, bearing temperature - compressors, motors, pumps and fans
Electrical measurements – high resistance joints, unphase balance, poor electrical connections

"Offering a variety of reliable and affordable machinery health monitoring solutions for our customers is important," said Renard Klubnik, Product Manager of Meggitt (Maryland), Inc. "MachineryMate® thermometers ensure optimal performance of machinery by providing a quick means of identifying high temperature product areas, maximizing production and efficiency."

Meggitt Sensing Systems offers a wide range of condition monitoring products including vibration sensors and meters, mounting accessories, cable assemblies and enclosures. To learn more, visit www.wilcoxon.com or e-mail MachineryMate@meggitt.com.

Meggitt Sensing Systems, a division of Meggitt PLC, is one of the world's leading providers of high performance sensing and condition-monitoring solutions for high value rotating machinery and other assets. It has operated since 1927 through its antecedents — ECET, Endevco, Ferroperm Piezoceramics, Lodge Ignition, Sensorex, Vibro-Meter and Wilcoxon Research.
www.meggittsensingsystems.com

Meggitt PLC is an international group operating in North America, Europe and Asia. Known for its specialized extreme environment engineering, Meggitt is a world leader in aerospace, energy and defense. Meggitt employs nearly 11,000 people at around 40 manufacturing facilities and regional offices worldwide. www.meggitt.com