Guest Management App supports online reservations, marketing.
Press Release Summary: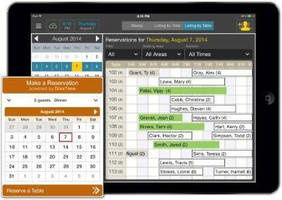 September 3, 2014 - To improve restaurant operating efficiency and profitability, DineTime Host v3.0 provides wait list management, 2-way SMS texting, guest book, and detailed operational analytics. Browser widget added to restaurant's website lets guests book reservations online, which synch with iPad-run app in real-time. During booking, guests are given option to invite friends, and restaurant operators can also create and send email marketing campaigns to guests using saved contact information.
Original Press Release
QSR Automations Adds Online Reservations and Marketing Capabilities to DineTime
Press release date: August 26, 2014
With New Features, the Guest Management Platform Provides Restaurants Even Greater Resources to Seat More Diners and Grow Their Business

LOUISVILLE, Ky. -- QSR Automations, Inc., the restaurant industry leader in guest management solutions and kitchen display technology, announced today the addition of online reservations and email marketing with the release of DineTime Host version 3.0. Adding a simple browser widget to a restaurant's website allows guests to book reservations online which then syncs the information with the app in real time.

DineTime, which runs on an iPad, was created to help improve a restaurant's operating efficiency and increase their business' profitability by providing wait list management, 2-way SMS texting, a guest book, and a variety of detailed operational analytics. Previously, the guest management software offered a reservation book that allowed restaurants to add reservations directly in the software from the host stand.

"Our work for the last 15 years has always been on the forefront of restaurant technology, and this release is no exception," said Lee Leet, QSR Automations President and CEO. "DineTime now streamlines guest management and online reservations in one app. We knew restaurants wanted an alternative to what's out there now--and they want one they can trust."

With DineTime 3.0, a restaurant's website becomes another way to market to diners and drive traffic into the restaurant. Booking online means keeping phone lines open and more time for host staff to focus on guests. During the booking process, guests are given the option to invite friends to join their party, bringing more business in the door without having to try.

This enhanced version of DineTime also gives restaurant operators the ability to create and send email marketing campaigns to their guests. By using the contact information they've saved in DineTime's guest book, it is easy to promote restaurant events, new dishes, special offers and more to their customers.

"DineTime now gives restaurateurs another way to stay in front of their guests with the marketing campaign feature," said Leet. "Increasing guest communication and building loyalty is another way DineTime is helping restaurants bring in more business."

Pricing for DineTime is tiered, and based on the number of wait listed and reservation parties a restaurant takes monthly. The cost is capped at $199 per month for an unlimited number of parties. DineTime is currently offering a two month free trial of the new online reservation feature.

For additional information on QSR Automations' DineTime platform, please visit www.DineTimeHost.com

About QSR Automations:
Established in 1996, QSR Automations is the restaurant industry leader in revolutionary in-store, online and mobile guest management systems. Headquartered in Louisville, Ky., QSR products help more than 70,000 restaurants and businesses of all sizes and concepts around the world measurably increase efficiency and quality. Best known in the industry for their comprehensive ConnectSmart software and hardware solutions, last year QSR announced the launch of the iPad version of DineTime which allows restaurants of any size to improve guest experiences and operate more efficiently. Restaurants around the world use DineTime to seat one million guests each day. For further information on QSR Automations, visit www.qsrautomations.com or contact QSR at 502-297-0221.

CONTACT: Steve Higdon, VP, Marketing, shigdon@qsrautomations.com, 502-797-5207, or Christine Azzolino, Coyne PR, cazzolino@coynepr.com, 973-588-2000