Product News: Transportation Industry Products, Computer Hardware & Peripherals, Electrical Equipment & Systems
Gigabit Ethernet Switch targets aerospace and defense industry.
Press Release Summary: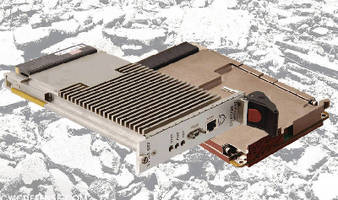 March 12, 2014 - Designed to meet continuing technology refresh requirements of defense and aerospace systems integrators, Model VPX3-652 provides up to 20 ports of Ethernet connectivity in single 3U slot. Rugged COTS GbE switch is suitable for use in space-constrained embedded C4ISR and Electronic Warfare subsystems to support network communications, both within subsystem and to connect externally to other subsystems within platform.
Original Press Release
Curtiss-Wright Now Shipping Rugged Gigabit Ethernet Switch Module
Press release date: March 4, 2014
ASHBURN, Va. – Curtiss-Wright Corporation (NYSE: CW) today announced that its Defense Solutions division has begun shipping early access units of the recently introduced VPX3-652 GbE Switch module to key customers in the aerospace and defense industry. The cost-effective 3U VPX Gigabit Ethernet (GbE) Switch solution, which speeds and eases the integration of modern networking technology into defense platforms, is scheduled for full production in Q2 2014.

"The market has responded quickly and enthusiastically to the new VPX3-652 GbE Switch module, which has already been designed into a number of important customer programs," said Lynn Bamford, Sr. VP/GM, Defense Solutions division. "With more ports, faster power-up and lower power consumption than alternatives, this small form factor module meets the needs of our customers looking to save valuable space and weight in today's cost conscious environment."

The VPX3-652 GbE Switch features an extremely low power and fast boot architecture and dramatically lowers the cost of adding network connectivity into new and legacy platforms. This rugged COTS GbE Switch solution is designed to meet the continuing technology refresh requirements of defense and aerospace systems integrators facing pressure to decrease their system size, weight, power and cost (SWaP-C). It provides up to 20 ports of Ethernet connectivity in a single 3U slot with a very low power footprint. The VPX3-652 GbE Switch is ideal for use in space-constrained embedded C4ISR and Electronic Warfare (EW) subsystems to support network communications, both within the subsystem and to connect externally to other subsystems within the platform.

Curtiss-Wright End-to-End System Solutions
The VPX3-652 VPX module complements a wide range of Curtiss-Wright COTS solutions for the defense industry, including our wide range of Intel and Power Architecture single board computers (SBC), graphics controllers, and our FPGA and DSP engines.  With modules available in VME, VPX, and mezzanine PMC/XMC form factors, as well as our complete family of fully integrated subsystems, these solutions are designed for immediate deployment in the most rugged environments.

Additional Information
Please contact the factory for additional information and availability. Click here for more information on the VPX3-652 GbE Switch module.

Sales inquiries: Please forward all Sales and reader service inquiries to Jerri-Lynne Charbonneau, Curtiss-Wright Defense Solutions, Tel: (613) 254-5112; Fax: (613) 599-7777; email: defensesales@curtisswright.com.

For more information about Curtiss-Wright's Defense Solutions division, please visit www.cwcdefense.com.

About Curtiss-Wright Corporation
Curtiss-Wright Corporation (NYSE:CW) is a global innovative company that delivers highly engineered, critical function products and services to the commercial, industrial, defense and energy markets.  Building on the heritage of Glenn Curtiss and the Wright brothers, Curtiss-Wright has a long tradition of providing reliable solutions through trusted customer relationships. The company employs approximately 10,000 people worldwide.  For more information, visit www.curtisswright.com.

NOTE: Trademarks are property of their respective owners