Geometric Modeling Kernel supports range of capabilities.
Press Release Summary: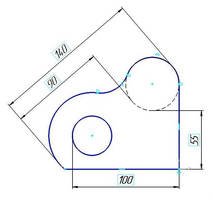 February 24, 2014 - Via integrated functions, methods, and algorithms, C3D v15 helps developers using 3D CAD systems increase speed and efficiency of applications with minimal resource consumption. English localization is available, and solution includes C3D Solver and C3D Converter modules as well as 2D Solver and Data Conversion modules. Various degrees of support are provided for sweep operation, fillets, collision detection, merging coplanar faces during Boolean operations, and more.
Original Press Release
C3D Labs Releases V15 of Its Geometric Kernel
Press release date: February 13, 2014
Offers Significant Increase in Performance and 50+ New Functions

C3D Labs (ASCON Group) is pleased to announce a newest release of its geometric modeling kernel, C3D. The company worked with customers over the last year on improving V15, and so the new version offers developers over fifty new functions, methods, and algorithms, as well as enriched documentation, an improved test application, and English localization. The C3D Solver and C3D Converter modules now operate several times faster.

"The potential for enhancing C3D is far from exhausted, as V15 proves," said C3D Development Manager Nikolai Golovanov. "The architecture of the product provides great opportunities for developers. For example, we achieved impressive acceleration in individual components of the kernel."

Developers using the new version for three-dimensional computer-aided design systems will be able to increase the speed and efficiency of their applications with minimal consumption of their resources. English localization expands the geography of sales for the geometric kernel. Thanks to its flexible licensing policy, C3D is unique among the kernel offerings in the global market of CAD components.

C3D V15 will be presented at the CeBIT 2014 exhibition (Hannover, Germany) and at COFES 2014 (Scottsdale, Arizona, USA). Also all the interested are welcomed to join the webinars in English on February 20 (14.00 Moscow time, GMT +04:00) and February 25 (20.00 Moscow time, GMT +04:00). For further details, please contact us direct at c3d@ascon.ru.

Top Ten Improvements to C3D
Here are the most important changes to C3D V15:

1. The Sweep Operation now creates bodies by three new methods:
• Sweeps along several disjointed flat contours,
• Sweeps of several disjointed contours on a curvilinear surface,
• Sweeps along 3D curves.

2. Fillets benefit from many improvements. For instance, users can now specify the face by which to perform the fillet, if the method is ambiguous.

3. Collision detection is now performed when filleting intersecting bodies.

4. V15 now manages what happens when merging coplanar faces during Boolean operations.

5. Thin wall shells are now be created for surfaces with arbitrary borders. Previously, this was possible only for surfaces with rectangular borders.

6. Every release includes new commands to the bending module, and so V15  now unbends bodies from sheet metal designs created with two sketches.

7. The 3D Solver module now sets mates for independent geometric objects belonging to the model's space, and not just to the coordinate system of a specific body. This means that the system of mates controls not only the bodies, but now also independent objects, such as points, lines, planes, circles, and cylinders with a fixed radius.

8. New algorithms significantly improve the 3D Solver module's response time in solving systems of equations. For example, in assemblies consisting of 10 to 50 thousand objects and constraints, the solving time is up to 10 times faster!

9. The 2D Solver module now allows users to specify a portion of a curve using two boundary points. This portion is considered a separate object within the system of constraints.

In addition, three new constraints are available:
• Aligning two points along a specified direction,
• Constructing a curve point by the percentage of its length,
• Creating linear dimensions between two circles, and between a circle and a linear object.

10. Because STEP is the most popular format among customers, the Data Conversion module now exports and imports attributes and annotations objects, such as construction geometry, dimensions, and text. As well, importing STEP files with large numbers of surfaces is much faster. For example, a 1.3GB assembly is imported 30x quicker than before!

Availability and Price

Customers can download the new version today from C3D Labs FTP to include it in their software products. To request for free evaluation, purchase or get detailed information about C3D kernel, please contact us: c3d@ascon.ru.

About C3D Labs
C3D Labs (ASCON Group) specializes in the technology-intensive market of CAD components. The company develops and markets the C3D geometric modeling kernel, which is used by many developers of CAD systems, as well as educational institutions in Russia. In 2013, C3D Labs became a resident of Skolkovo, Russia's state development institution.

Twitter
Facebook
LinkedIn

Media Contacts:
+7 495 7832560, extension 2130
c3d@ascon.ru