Gas-Shielded Flux-Cored Wire improves comfort, productivity.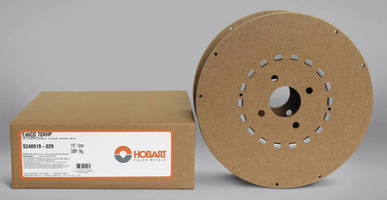 Gas-Shielded Flux-Cored Wire improves comfort, productivity.
August 19, 2013 - Designed for single- and multi-pass welding, Hobart® FabCO® 70XHP can be used in flat and horizontal position with either 100% CO2 or 75% argon, 25% CO2 shielding gas mixture. Fume generation rates help improve operator comfort, and deposition rates increase productivity. Available in 1/16, 5/64, and 3/32 in. dia, wire offers tensile strengths from 78,000–85,000 psi. Charpy V-Notch impact values exceed 20 ft•lbs at -40°F after 2 hr of stress relief at 1150°F.

Original Press Release

Hobart Brothers Company
Hobart Square
Troy, OH, 45373-2900
USA



New Addition to Hobart Family of Flux-Cored Wires Improves Comfort and Productivity


TROY, Ohio. — The newest addition to the Hobart® family of AWS E70T-1 welding wires— the Hobart FabCO® 70XHP gas-shielded flux-cored wire — offers low fume generation rates to help improve operator comfort and highdeposition rates that help increase productivity. The new wire complements the FabCO TR-70 and FabCO RXR wires currently offered under the Hobart brand. Together, the three wires provide a continuum of benefits, with the new FabCO 70XHP wire offering the highest level of performance and the lowest visible fume levels. The FabCO TR-70 wire is best suited for all-round performance, while the FabCO RXR wires offers greater performance for welding through mill scale and rust.

The FabCO 70XHP wire is designed for use in applications found in heavy equipment manufacturing, shipbuilding, and railroad car maintenance and repair, all of which tend to have enclosed environments where fume reduction is desirable. The wire can also be used to weld non-alloyed and fine grain steels, as well as steel structures.

Due to advanced formulations, the FabCO 70XHp wire features an especially shiny weld bead with an easy-to-remove slag, which not only makes the completed weld more aesthetically pleasing, but it also helps minimize time for clean up. Low spatter levels contribute to the wire's ease of clean up.

The FabCO 70XHP wire has been designed for both single- and multi-pass welding, and can be used in the flat and horizontal position. Unlike many other AWS E70T-1 electrodes (including the FabCO TR-70 and FabCO RXR), the FabCO 70XHP wire can be used with either 100 percent CO2 or a 75 percent argon/25 percent CO2shielding gas mixture.

Weld deposits created by the FabCO 70XHP wire also maintain their toughness even after stress relieving. Specifically, Charpy V-Notch impact values exceed 20 ft•lbs at -40 degrees Fahrenheit (-40 degrees Celsius) after two hours of stress relief at 1150 degrees Fahrenheit (620 degrees Celsius). The wire offers tensile strengths in the range of 78,000 to 85,000 psi, depending on the "as-welded" or post weld heat treated (PWHT) condition.

The wire is available in 1/16- 5/64- and 3/32-inch diameters on either 33-pound spools or 60-pound coils.

About Hobart Brothers Company
Hobart Brothers Company, headquartered in Troy, Ohio, is a leading manufacturer of the innovative Hobart® brand of filler metals, and is a wholly owned subsidiary of Illinois Tool Works, Inc.  The ITW Welding brand portfolio also includes Miller® branded welding and cutting equipment.

For more information, visit the Hobart Brothers Company website at www.HobartBrothers.com, call 1-800-424-1543, fax 1-800-541-6607, email hobart@hobartbrothers.comor  write Hobart Brothers Company, 101 Trade Square East, Troy, OH 45373.

---