Product News: Vision Systems, Computer Hardware & Peripherals, Robotics, Green & Clean, Optics & Photonics
Flying Camera captures stabilized HD video.
Press Release Summary: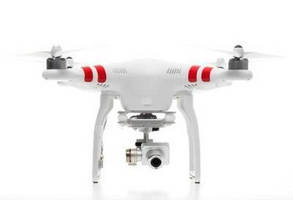 April 15, 2014 - Featuring built-in camera that shoots 1080p video at 30 fps and takes 14 MP pictures, DJI Phantom 2 Vision+ facilitates aerial filmmaking. Unit is mounted to electronic stabilizer, ensuring steadiness of camera on 3 axes: pitch, roll, and yaw. Built-in GPS enables system to automatically stay in same spot in air, even in winds up to 25 mph. With DJI VISION App for iOS/Android devices, pilots can view what camera is seeing in real-time and control camera from up to 2,296 ft via Wi-Fi network.
Original Press Release
DJI Takes Aerial Filmmaking to New Heights with Phantom 2 Vision+
Press release date: April 7, 2014
- First flying HD camera with built-in 3-axis stabilization
- GPS stabilization makes it easy for filmmakers to capture smooth video footage from the sky
- Ability to fly autonomously according to a GPS-set path
- Ground breaking firmware updates help pilots follow flight safety guidelines

LAS VEGAS, – DJI, a global leader in aerial photography and cinematography platforms, today announced the release of the DJI Phantom 2 Vision+, the world's first flying camera that captures stabilized HD video out of the box.

The DJI Phantom 2 Vision+ features a built-in camera that shoots 1080p video at 30 frame-per-second (fps) and takes 14-megapixel pictures. The camera is mounted to a gimbal, an electronic stabilizer, ensuring the steadiness of the camera on 3 axes -- pitch, roll and yaw -- regardless of wind conditions or flight speed.

With its built-in GPS system, the DJI Phantom 2 Vision+ will automatically stay in the same spot in the air even in winds of up to 40 kilometers-per-hour (25 miles-per-hour), allowing creators to focus on getting the right shot.

Using the DJI VISION App for iOS and Android devices, pilots can view what the camera is seeing in real time and control the camera from up to 700 meters (2,296 feet) away using the camera's own Wi-Fi network. The DJI VISION App also displays key flight information including altitude, distance from pilot, and battery strength.

The DJI Phantom 2 Vision+ is also fully compatible with DJI's Ground Station capabilities, which allows pilots to set a GPS path for the Phantom to navigate autonomously.

"We have been truly inspired by all the creative applications of our Phantom series so far -- filmmaking, fire fighting, conservation and many others," said Frank Wang, Chief Executive Officer of DJI. "By stabilizing the camera and making it easy to fly with minimal set up, we hope to inspire a new generation of aerial creators to take to the sky and capture their vision."

The DJI Phantom 2 Vision+ ships with a first-of-its-kind firmware upgrade for the entire Phantom series. The upgrade makes it easy for pilots to follow international best flying practices by helping them avoid flying near airports and giving them the ability to set their own height and distance limitations in line with local regulations.

The DJI Phantom 2 Vision+ is available for pre-order through the DJI website and from authorized dealers across the globe for an MSRP of $1,299. Find out more at www.DJI.com/product/phantom-2-vision-plus.

About DJI
DJI is a global leader in developing and manufacturing small unmanned aerial systems (sUAS) for commercial and recreational use. DJI was founded and is run by people with a passion for remote-controlled helicopters and experts in flight control technology. The company is dedicated to making aerial photography and filmmaking more reliable and easier to use for creators and innovators around the world. DJI's global operations currently span North America, Europe and Asia, and its revolutionary products and solutions have been chosen by customers in over 50 countries; for applications in film, advertising, construction, fire fighting, farming, and many other industries.

For more information, visit DJI online: www.dji.com
Follow us on Facebook: www.facebook.com/DJIGlobal
Follow us on Twitter: www.twitter.com/DJIGlobal

CONTACT:
PR Manager
Michael Perry
+852-9857-1570
Michael.Perry@DJI.com

Web Site: http://vimeo.com/90986568