Product News: Fluid & Gas Flow Equipment
Flapper Isolation Valve enhances clinical, analytical instruments.
Press Release Summary: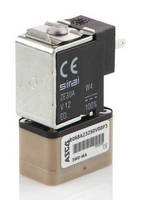 July 30, 2014 - Designed for use with neutral and aggressive liquids and gases, 16 mm ASCO 068 Series flapper isolation solenoid valve leverages technology that promotes throughput while reducing sample sizes and calibration requirements. Flapper technology allows pressures up to 116 psi to be achieved at large orifice sizes while preventing fluid contamination that can result from spikes in back pressure. Other features include 20 msec response time, volume control, and self-draining capability.
Original Press Release
ASCO Introduces 068 Series Flapper Isolation Valve; Improves Throughput, Reduces Sample Size in Clinical and Analytical Instruments
Press release date: July 24, 2014
FLORHAM PARK, N.J. — ASCO Numatics has introduced its 16mm ASCO 068 Series flapper isolation solenoid valve, the first in its class with technology that offers greater throughput, smaller sample sizes, and reduced calibration requirements for clinical and analytical instruments.

"Our new ASCO 068 Series valve's 20 ms response time and exceptional volume control mean original equipment manufacturers (OEMs) can design instruments with higher productivity, better flushability, and more precise measurements," said Robert W. Kemple, Jr., executive vice president, sales and marketing – Americas, ASCO Numatics. "End users will benefit from much greater measurement repeatability, smaller sample and reagent requirements, and reduced calibration frequency."

The ASCO 068 Series valve is ideal for OEMs serving the clinical diagnostic, life science, sterilization, and dental markets.

The valve is designed for use with neutral and aggressive liquids and gases. Its flapper technology allows high pressures to be achieved (up to 116 psi) at large orifice sizes while preventing the fluid contamination that can result from spikes in back pressure inherent in analytical devices. The highly reliable valve has been tested to well over 10 million cycles for extended product life.

The solenoid isolation valve also features:

Excellent operating characteristics under vacuum conditions
Low pumping effects
Self-draining capability and easy-to-flush internal cavity
Low heat transfer between control mechanism and media
Optional onboard power saver mode
In isolation valves, hermetic separation of the control mechanism and fluid prevents particulate contamination caused by friction of the mechanical components. This ensures maximum purity of the fluids or gases in all isolation applications.

ASCO's 068 Series valves can be ordered as a turnkey fluid automation solution that includes a manifold with fittings and special connections. "These plug-and-play assemblies provide OEM's with lower manufacturing costs and faster production cycles," said Kemple. "Our valves were specifically designed for use in hematology, oncology, chromatography, chemical sterilization, water quality monitoring, DNA sequencing, and liquid-handling equipment applications."

The 068 Series valves are available through the ASCO Today same-day shipping program and can be ordered through ASCO distributors and sales representatives. For more information, contact ASCO at 800-972-ASCO (2726), by e-mail at info-valve@ascovalve.com, or visit www.ascovalve.com/068.

About ASCO Numatics
ASCO Numatics, an Emerson company, offers comprehensive fluid automation solutions, including fluid control and fluid power products, for a wide range of industry-focused applications. The ASCO Numatics product line in North America consists of more than 50,000 valves, an extensive selection of air preparation equipment, and a full line of actuation products. ASCO products include solenoid pilot valves, angle body piston valves, linear indicators, redundant control systems, and pressure sensors. The Numatics line covers valve manifolds, cylinders, grippers, filters, regulators, and lubricators. For more information about ASCO Numatics products, visit www.asconumatics.com.

About Emerson and Emerson Industrial Automation
Emerson (www.Emerson.com) is a global leader in bringing technology and engineering together to provide innovative solutions for customers in industrial, commercial, and consumer markets around the world. The company is comprised of five business segments: Process Management, Industrial Automation, Network Power, Climate Technologies, and Commercial & Residential Solutions. Sales in fiscal 2013 were $24.7 billion. Emerson Industrial Automation (www.EmersonIndustrial.com), a business of Emerson, provides automation and power generation technologies and services to a wide range of industries. With its global capabilities and deep industry expertise, Emerson Industrial Automation is a trusted partner for products and solutions that increase machine performance, efficiency, reliability, and availability. Its industry-leading brands include Appleton®, ASCO®, Branson®, Browning®, Control Techniques, Kop-Flex®, Leroy-Somer®, McGill®, Morse®, Numatics®, O-Z/Gedney, Rollway®, SealMaster®, and System Plast™.

Press Contacts:
Don Goncalves
781-793-9380
dgoncalves@tizinc.com