Product News: Electrical Equipment & Systems
External Battery Pack extands Accsense Monitoring Pod uptime.
Press Release Summary: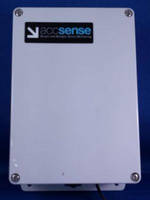 May 1, 2014 - Available for Accsense Monitoring Systems, E1-16 External Battery Pack enabling extended operation for Accsense wireless A1 series. Design lets users replace batteries from front without removal from mounting. Compatible with all Accsense Wireless Pods, battery pack plugs into pod in place of AC adaptor and extends product battery life up to 2–3 years. Users can also deploy battery pack with Accsense A2-05 Ethernet Temperature Dataloggers.
Original Press Release
New External Battery Pack for Accsense Monitoring Pods
Press release date: April 29, 2014
Accsense Wireless Data Loggers Offer Extended Operation

CHESTERLAND OH—CAS DataLoggers has developed an improved version of the E1-16 External Battery Pack for its bestselling Accsense Monitoring Systems. The new battery pack has a convenient new design enabling users to replace the batteries from the front of the unit without needing to remove it from its mounting. Enabling extended operation for the Accsense wireless A1 series, the E1-16 pack is now available for under $90 on our Online Store at: https://www.dataloggerinc.com/datalogger_store/store/e1-16-external-battery-pack/. Our Accsense data loggers can monitor temperature, humidity, current, voltage, light, or vibration—nearly any value your application requires.

The E1-16 battery pack is compatible with all Accsense Wireless Pods and extends their battery life up to 2-3 years (batteries not included). The battery pack plugs into the pod in place of an AC Adaptor.

The A1-13 Wireless Temperature Data Logger can handle up to 3 RTD inputs for highly accurate multi-point monitoring. Each A1-13 wireless sensor pod features an internal ambient temperature sensor monitoring a wide temperature range of -40°C to +70°C (-40°F to 158°F) at high accuracy. The datalogger also features two digital inputs for connection to a broad range of digital sensors, for example to monitor how often a medical refrigerator door is opened.

Combined with the Accsense B1-06 Wireless Data Logger Gateway, these wireless data loggers offer users a temperature monitoring and alarming system which sends all recorded temperature data online for long-term storage and analysis. Saving customers the time and trouble of having to take manual temperature readings themselves, Accsense automated monitoring is much less expensive, more reliable, and offers data archiving and regulatory documentation. All Accsense needs is an RJ45 Ethernet connection with open internet access so facilities don't need to install troublesome wiring.

Operating on battery or AC power, Accsense dataloggers bridge the connection between users' critical data and the Internet. The B1-06 gateway features built-in 10/100BaseT Ethernet and can support as many as 16 temperature sensor pods, with a wireless range of 250 feet unobstructed and 90 feet indoors.

The B1-06 wireless gateway includes FREE software with no extra installation required. Users work with a customizable interface with dashboards of the most recent measurements from all sensor pods. Users also have instant access to charts depicting measurement history with ranges as narrow as 5 minutes or as wide as 90 days. Measurement data can also be downloaded for offline analysis, and users can allow password-protected, limited access to specified personnel.

Using an online monitoring plan with each gateway, users can plot measurement history, analyze tabular measurements, and set alarms to watch their data. The values are updated in real-time. The secure servers can also send out voice, text or email alerts to inform users when a temperature reading falls out of range. The same alarm can even be sent to multiple locations!

Users can also deploy the battery pack with the bestselling Accsense A2-05 Ethernet Temperature Dataloggers. A2-05 data loggers can monitor medical storage units, industrial machinery and processes, liquid nitrogen chambers and more. These data loggers measure and record temperature data at high accuracy with inputs for 2 RTDs and a Type T thermocouple. These devices feature advanced alarm capability to send out emails, texts and even make phone calls whenever temperatures suddenly go outside critical ranges, increasing safety measures and decreasing staff response times.

To learn more about our Accsense wireless and wired dataloggers, or to find the ideal device for your application-specific needs, contact a CAS Data Logger Applications Specialist at (800) 956-4437 or visit the website at www.DataLoggerInc.com.

Contact Information:
CAS DataLoggers, Inc.
12628 Chillicothe Road
Chesterland, Ohio 44026
(440) 729-2570
(800) 956-4437
sales@dataloggerinc.com
www.dataloggerinc.com