Product News: Computer Hardware & Peripherals, Electrical Equipment & Systems, Mounting & Attaching Products
Extension Cables target USB 2.0 micro B enabled peripherals.
Press Release Summary: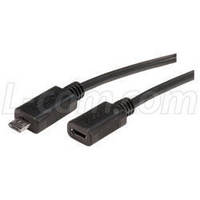 May 28, 2014 - Offered in lengths of 0.3, 0.5, 0.75, 1, 2, and 3 m, USB 2.0 Micro B Extension Cables are male-to-female cables used to extend phone charger cables and other USB 2.0 micro B enabled peripherals. They can also be used to extend plug-in wall chargers that have short, fixed length cords.  To provide protection against EMI/RFI, each cable incorporates foil plus braid shielding. All 5 connector positions are integrated to ensure proper functionality in every application.
Original Press Release
L-com Launches USB 2.0 Micro B Extension Cables
Press release date: May 15, 2014
NORTH ANDOVER, MA – L-com, Inc., a designer and manufacturer of wired and wireless connectivity products, announced today that they have released a new line of USB 2.0 Micro B Extension Cables. These handy male-to-female cables are used to extend phone charger cables and other USB 2.0 micro B enabled peripherals and they can be used to easily extend plug-in wall chargers and older chargers that have short, fixed length cords. With these cables customers will no longer need to lay phones on the floor to charge them because the cord is too short.

L-com is one of only a few manufacturers to release the USB 2.0 micro B extension cables. "We're proud to have engineered this product for our customers since we know that USB 2.0 micro B extension cables can be hard to find," said Steve Smith, Product Manager.

The micro B extension cables are offered off the shelf in lengths of 0.3, 0.5, 0.75, 1, 2, and 3 meters. Each cable incorporates foil plus braid shielding to provide maximum protection against EMI/RFI. All five connector positions are integrated to ensure proper functionality in every application.

For more information about this release, please contact:
Peter McNeil
Product Marketing Manager
978-682-6936 x1450
pmcneil@l-com.com

About L-com Global Connectivity
L-com Global Connectivity, a global leader in the manufacture of wired and wireless connectivity products, offers a wide range of solutions and unrivaled customer service for the electronics and data communications industries. The company's product portfolio includes cable assemblies, connectors, adapters, computer networking components, and custom products, as well as their HyperLink® brand of wireless products which include antennas, RF amplifiers, coaxial lightning and surge protectors, and NEMA rated enclosures. L-com's HyperLink® wireless products are designed for WiFi, WiMAX, SCADA, 802.11a/b/g/n/ac, RFID and Bluetooth applications. In addition to HyperLink®, L-com's other brands include MilesTek®, specialists in Military/Aeronautics connectivity solutions and Aiconics®, a leading manufacturer of electrical connector products.  Trusted for over 30 years, L-com, which is headquartered in North Andover, MA, is ISO 9001: 2008 certified and many of its products are UL® recognized For more information, please visit:  http://www.L-com.com/

Friendly & Knowledgeable Service - In Stock Availability & Same Day Shipping -100% Satisfaction Guaranteed
Connect with L-com:   Twitter   Facebook   YouTube   Google +