Enterprise Storage System provides 100 TB capacity.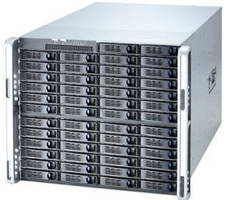 Enterprise Storage System provides 100 TB capacity.
October 26, 2009 - Able to scale to 1,000 TB, Model Rx-8500 supports RAID levels 0, 1, 1EE 3, 10, 5, 5EE, 6, 50, and 60. Unit is deployable as NAS, iSCSI SAN, Fibre-channel SAN, or stripped down DAS depending on required application needs. With up to 4 parallel 4 Gb/s I/O interface, visualization is amplified by allowing balanced and distributed I/O sharing without I/O bottlenecks. System is optimized for cloud storage, cloud computing and visualization as well as HD video storage and streaming applications.

(Archive News Story - Products mentioned in this Archive News Story may or may not be available from the manufacturer.)
Original Press release

Cepoint Networks LLC
1 W. Otterson St.
Nashua, NH, 03062
USA



Cepoint Launches High Capacity, 100TB Single Storage Solution for 24 x 7 High Definition Video and Other Real-Time Mission-Critical Storage Applications Such as Enterprise Large Scale Video Surveillance


Enterprise Unified Storage solution

Nashua, NH. Cepoint has upgrade its RX-8500 enterprise storage solution to a single 100TB capacity storage solution for high demand and large scale deployment requirements. Rx8500 also has been optimized for cloud storage and cloud computing and visualization, in addition its high performance for High definition (HD) video storage and streaming solutions. The Enterprise Storage system which comes with optional fiber-channel, iSCSI or e-sata /sas capability has been designed for storing and streaming Real-Time HDTV video streams and high demand, multiple remote access capability, thus making the unit best suite for campus wide high definition video surveillance storage solution, HDTV video broadcast and very high speed data archiving or warehousing. The TELCO carrier grade, NEB's compliant platform Rx-8500 storage system scales to 1,000TB capacity and expands beyond 100TB without taking down the system. A fully configured unit is easily scalable without any hassle of down time or delayed deployment. This system is very suitable for other Real-Time mission-critical applications in Telecommunications environment, such as large scale VoIP, Telephony and campus wide data warehouse.

Multiple RAID Capable

The system supports RAID levels 0, 1, 1EE 3,10, 5, 5EE, 6, 50, 60, and with all its equipped features, Rx8500 is deployable as a NAS, iSCSI SAN or Fibre-channel SAN or stripped down DAS (Direct Attached Storage) depending on required application needs and environment thus making Rx-8500 a configurable or re-configurable Unified Enterprise storage solution. This saves enterprises and their IT departments thousands of dollars and deployment headaches otherwise would have been incurred or encountered in tinkering or trying to adapter different or varied solutions from multiple vendors.

Cloud Storage and Visualization optimized:

Using Vmware compliant resources, QUAD 4Gb/s or 10Gb/s I/O :With up to 4 parallel 4Gb/s I/O interface, visualization is amplified by allowing balanced and efficient distributed I/O sharing without I/O bottle necks or compromising performance

Rx8500 delivers more punch and high performance at far less price than similar systems from "big name players" such as EMC, Network Appliance and IBM. Cepoint began shipping its high availability and highly scalability, Fault-Tolerant R-Stor Enterprise Storage systems in December 2003. For quite some time now, IT managers and systems administrators have worried about compatibility issues of new systems with their current infrastructures and, any future growth requirements. Although Rx8500 is designed as a Unified re-configurable multi-tier enterprise storage solution for large scale and enterprise-wide storage solutions, the main catch though is the HD/SDi Video component built into the unit to efficiently utilize HD video storage space without sacrifice or degradation in video streaming quality.

Cepoint Networks, LLC is a systems integration, and high performance computing manufacturer, specializing in high availability storage, applied computing products, and services for enterprise applications, telephony and telecommunications industry, Government, utilities and industrial markets. The Company's other products and services include; turnkey rack mount fault-tolerant cluster servers for mission-critical applications, servers, video-on-demand, telephony systems for VoIP (Voice-over IP), video/audio conferencing, real-time IRIG-B or GPS time-stamp digital recorders, message logging and telecasting and, rugged portable lunch box workstations for field applications, network engineers and technicians. 1U, 2U, 3U and 4U NEMA and NEB's compliant servers and workstations for data acquisition, audio and video data archives or real-time video/data streaming. Company's website is http://www.cepoint.net for storage product info. Or www.cepoint.com for Broadcast products.

For more information contact: sales@cepoint.com or Ph: (603)883-7979 Website: www.cepoint.net and http://www.cepoint.com or Contact: sales@cepoint.net Cepoint Networks, LLC www.cepoint.net Ph:(603)883-7979

---


Start Your

Free


Subscription to


Industry Market Trends

.