Product News: Software, Services
Engineering Data Portal includes data for 120,000+ electronic devices.
Press Release Summary: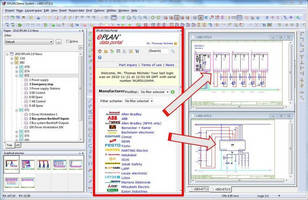 August 25, 2011 - EPLAN Data Portal v2.0 enables users to quickly and easily select data relevant to their target market and focus on relevant components. Each device on portal is assigned a unique ID that allows its data to be updated even if local part number is changed, and device data can be displayed and filtered according to regional availability. Also, supplier-specific component configurators streamline availability and usage of this CAE component data.
EPLAN Software und Service GmbH & Co. KG
Original Press Release
Eplan Data Portal 2.0
Press release date: August 19, 2011
Maximum speed and easy searching and finding are the main advantages of the new EPLAN Data Portal which already includes data for more than 120,000 devices. Users benefit from access to the latest, up-to-date data which can be more quickly and easily integrated in engineering using the new EPLAN Platform 2.0.
Following the launch of the EPLAN Platform 2.0, the new EPLAN Data Portal 2.0 has now gone live. Users are enjoying new time-saving functions in the online portal that make it easier to select and use device data and components. The integration of much more manufacturer and device data promises significant practical benefits. A new portal member is Leuze Electronic, manufacturer of optoelectronic sensors who has integrated EPLAN macros of selected switchgears as well as many safety oriented sensors. In time for Version 2.0, Festo has also provided a selection of pneumatic components.
More manufacturers - more data Mitsubishi Electric has joined the list of new manufacturers with data for PLCs and converters and Dehn + Söhne expanded the offering in lightening and surge protection. But that's not all: ABB has updated its data and Phoenix Contact has adjusted its already extensive range of products. At the SPS/IPC/DRIVES trade fair, Blomberger will present the next update, so that their device data will also support the latest EPLAN Electric P8 2.0 functionality. Future exciting perspectives: the planned integration of Endress+Hauser, which will be announced in Nuremberg.
Function by function Valuable manufacturer data aside, users can look forward to many new portal functions. One of the eagerly awaited highlights is the "unique ID" which clearly identifies an article in the EPLAN Data Portal. This ID allows data from the portal to be updated even if the local part number is changed. And if the manufacturer so desires, the device data can now be displayed and filtered according to regional availability. Users can quickly and easily select the data relevant to their target market and concentrate on the relevant components. The optimized user interface is also a decisive factor. For example, it now has filter options that can be hidden which significantly speeds up page loading times.
Faster searching, easier finding Data transparency has been improved by now displaying the number of articles per product group including all subgroups in the manufacturer catalog. This makes it easy to select from many extensive catalogs - time-consuming page-turning is a thing of the past. Another highlight is the new accessory lists for users who used the optimized accessory management in Versions 2.0 of the data portal. Other new features: automatic download of function template macros, referenced parts that are already complete for the mounting layout, and the life cycle status of previous and subsequent parts so that data is always up-to-date.
Fast, easy, convenient: configurator technology Next step to improve availability and usage of CAE component data is the integration of supplier specific component configurators into the EPLAN Data Portal. Currently Rockwell, Endress & Hauser and EPLAN are running a common project to create a seamless interface between E&H product configurator and EPLAN Data Portal. The engineer is able to configure the needed E&H devices guided by the configurator and then drag & drop the detailed CAE data directly into his electrical project documentation - simply genius high end engineering. The integration of Rittal Therm is another technological milestone. All necessary components, assemblies and accessory parts are simply configured and then mounted in the 3D mounting layout of the enclosure.
EPLAN Software & Service EPLAN Software & Service develops engineering solutions that accelerate the engineering process. Interdisciplinary expert systems ensure a maximum of productivity and data continuity. The solution provider develops tailor-made PDM and PLM concepts and provides comprehensive services such as customizing, consulting and training. Success factors are innovative development competence, a consistently practical approach and international presence. EPLAN is a subsidiary of Rittal International and thereby part of the Friedhelm Loh Group, with 11,500 employees worldwide, and an expected revenue of 3.14 Bn. Euros for 2011.
EPLAN represents continuity and investment security. The seven German EPLAN branches and a presence in 50 countries support 19,500 customers with 65,000 installations worldwide. 'Efficient Engineering' - the corporate motto, underlines the proficiency of optimized, efficient processes, which support companies in their quest to stay competitive in the long term.
EPLAN Software & Services LLC 37000 Grand River Ave., Suite 380 Farmington Hills, MI 48335 USA KNAPIK Christine Phone: +1-630-408-3863 Fax: +1-248-945-9210 Knapik.c@eplanusa.com
EPLAN Software & Service GmbH & Co. KG An der alten Ziegelei 2 40789 Monheim am Rhein Deutschland ZINK Markus Phone: +49 2173 3964-129 Fax: +49 2173 3964-613 Zink.M@eplan.de