Enclosure Lights are offered with LED, fluorescent options.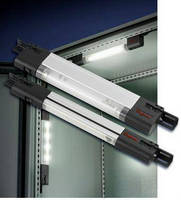 Enclosure Lights are offered with LED, fluorescent options.
April 22, 2010 - Hoffman brand PANELITE(TM) enclosure lights are offered in LED versions that are available in 15 in. lengths, as well as fluorescent units in 15, 18, and 28 in. lengths. With LED models, 140° cone angle casts covering of neutral light within enclosures, and low-maintenance units operate on 24 Vdc, for up to 50,000 hr. Products include on/off switch and plug-and-play terminal connection system with prewired connection sockets, on both ends of light, for ganging in series.

(Archive News Story - Products mentioned in this Archive News Story may or may not be available from the manufacturer.)
Original Press release

Hoffman
2100 Hoffman Way
Anoka, MN, 55303 1778
USA



Pentair Technical Products Introduces Hoffman Brand PANELITE(TM) Enclosure Lights with Easy-to-Install, Low-Profile LED and Fluorescent Options


Anoka, MN - Pentair Technical Products announces the new Hoffman brand PANELITE(TM) family of enclosure lights, including compact LED and fluorescent versions in versatile and easy-to-install packages. PANELITE LED and Fluorescent Lights were specifically designed for quick installation in Hoffman PROLINE® Enclosures, with flexibility to be mounted in any enclosure. Their efficient design fits easily inside enclosures where space is often at a premium, and terminal blocks located at both ends of the lights' housings allow for simple wiring and gangability.

The compact PANELITE LED Enclosure Light delivers the advantages of long-lasting LED technology: durable; low-maintenance; a long operating life up to 50,000 hours; and no bulbs to crack, break or replace. They operate on 24 VDC, making them an effective solution for low voltage and energy efficient applications. LEDs offer a 140 degree cone angle that casts a broad covering of neutral light within enclosures. The light's center section also rotates, allowing users to direct the light where needed. Additionally, LED technology delivers excellent performance in harsh environments including cold temperatures and vibration applications.

o PANELITE LED Enclosure Lights are UL and CSA certified and are available in a 15-inch length

o PANELITE Fluorescent Enclosure Lights are UL and CSA certified and are available in 15-, 18- and 28-inch lengths

"With LED and fluorescent lighting options, PANELITE delivers ideal solutions for illuminating enclosure interiors, providing increased visibility for installation of internal components, performing maintenance and monitoring," said Nathan Espinosa, Pentair Technical Products' product manager. "Their slim profiles allow the lights to be mounted up out of the way to facilitate easy panel installation, and versatile mounting clips provide fast installation and enable the light to be positioned horizontally or vertically without requiring the light to be disassembled for mounting."

PANELITE LED and Fluorescent Enclosure Lights are simple to wire and operate. A plug-and-play terminal connection system includes pre-wired connection sockets on both ends of the light for ganging in series and allowing for Hoffman's line of easy to use PANELITE cable accessories. Additionally, optional terminals snap into the connection sockets to allow users to utilize their own wiring methods. Terminals are provided in the kit with each light. The lights also include an incorporated On/Off switch. Accessories for the LED and fluorescent enclosure lights include ganging cables, power cords and door switches, all provided with easy to use plug-and-play connectors.

About Pentair Technical Products

Pentair Technical Products, a Pentair global business unit, is the leading provider of worldwide product and service solutions for enclosing, protecting and cooling electrical and electronic systems. Its industry-leading brands-Hoffman®, Schroff®, McLean® Cooling Technology, Calmark(TM), Birtcher(TM), Aspen Motion Technologies(TM) and Taunus(TM)-provide a broad variety of standard, modified and engineered solutions to the commercial, communications, energy, general electronics, industrial, infrastructure, medical, and security and defense markets.

For more information, contact Pentair Technical Products Anoka at 2100 Hoffman Way, Anoka, MN 55303 or www.hoffmanonline.com.

---