Dry Ice Maker can operate 24/7 to fulfill demand.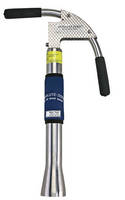 Dry Ice Maker can operate 24/7 to fulfill demand.
February 11, 2013 - Ergonomically engineered and constructed, ABSOLUTE ZERO® is constructed of stainless steel for durability and capable of producing 17 lb of product within 2 min. Ability to produce dry ice according to demand on up to 24/7 basis accommodates needs of packaging, bio-tech, pharma, life science, and perishable food applications. Other areas of use include sanitizing/degreasing, laboratories, maintenance departments, and instances involving power outages where perishables must be saved.


Additional information provided by manufacturer
Original Press release

Polar Tech Industries, Inc.
415 E. Railroad Ave.
Genoa, IL, 60135 1200
USA



Make Your Own Dry Ice


Low Cost • High Yield • Durable • Easy

Ergonomically Engineered and Constructed

Safe • Light Weight • Durable Stainless Steel

ABSOLUTE ZERO® High yield dry ice maker produces 17 lbs. per 2 minutes – a 47% yield.
Ideal for:
• PACKAGING/Bio-Tech, Pharma, Life Science, Food Perishables — Refrigerated and frozen
• SANITIZING/DEGREASING — Slaughtering and food manufacturing facilities
• LABORATORY/ORGAN — Specimens, cultures, tissues
• POWER OUTAGE — Save perishables warehouses, retail, home
• MAINTENANCE DEPARTMENT — Emergency pipe repair, dry ice surface blasting, pest control

Eliminate waiting for dry ice deliveries and calculating quantity and sublimation loss.

PRODUCE YOUR REQUIREMENTS ON DEMAND 24/7.

SAVE TIME AND MONEY, take control of your dry ice requirements TODAY.

Call our ABSOLUTE ZERO® specialist at POLAR TECH INDUSTRIES, 800-423-2749

---


Start Your

Free


Subscription to


Industry Market Trends

.