Product News: Robotics, Sensors, Monitors & Transducers
Double Metal Sheet Detector detects ferrous metal thickness.
Press Release Summary: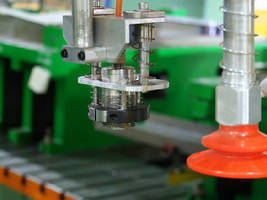 August 13, 2012 - Integrated into robotic End-of-Arm Tooling and used for blank feeding press, Model DSD-36 permits double metal detection with minimal magnetic attraction of sheet or blank up to single thickness of 0.25 in. Presence of double sheet produces output to stop machine or to signal operator, eliminating die/machine damage from receiving too many sheets. Comprising control module in sheet metal housing with single probe, system uses pulsed electromagnetic detection to determine metal thickness.
Original Press Release
>SAS< Automation Introduces Double Metal Sheet Detector
Press release date: August 7, 2012
>SAS< automation,="" a="" leader="" in="" the="" design="" and="" manufacture="" of="" robotic="" end-of-arm="" tooling="" (eoat),="" recently="" introduced="" dsd-36="" double="" metal="" sheet="" detector,="" to="" detect="" thickness="" of="" ferrous="" metals="" thereby="" eliminating="" die/machine="" damage="" from="" receiving="" too="" many="" sheets="" of="" metal.="">
The presence of a double sheet produces an output to stop the machine or to signal the operator. The DSD-36 Double Sheet Detector is integrated into the robotic EOAT and is used for blank feeding the press. The technology permits double metal detection with minimal magnetic attraction of the sheet or a blank up to single thickness 2.3mm (0.25").
The detector comprises a control module in a sheet metal housing with a single probe to form a system that detects the thickness of ferrous metals on the face of the probe using pulsed electromagnetic detection.
Significant Features:
· Spring loaded Metal Sheet Sensor
· Multiple ways to mount the Sensor
· Controller included
· Detects thickness: minimum .25mm to a maximum of 2.3mm
"Press tending can be challenging as overlapped sheets may jam and damage the dies or press," said Robert Dalton, General Manager for >SAS< automation.="" "the="">SAS< double="" sheet="" detector="" accommodates="" a="" wide="" range="" of="" metal="" thickness="" and="" saves="" both="" labor="" and="" expensive="" machine="" downtime="" and="" repairs,"="" said="">
About >SAS<>
>SAS< is="" a="" leading="" supplier="" of="" modular="" robotic="" end-of-arm="" tooling,="" components,="" and="" custom="" gripper="" systems,="" capable="" of="" servicing="" any="" part="" and="" any="" robot.="">SAS< manufactures="" in="" the="" usa="" "get="" a="" grip!",="" and="" distributes="" nile="" sprue="" nipper="" line,="" and="" asian="" chucking/gripper="" line="" and="" is="" iso="" 9001:2008="" quality="" certified.="" specialists="" in="" robotic="" end-of-arm="" tooling="" for="" general="" material="" handling,="" press="" tending,="" food="" handling,="" palletizing,="" packaging="" &="" plastics="" industries.="" sales,="" service="" &="" support="" to:="" usa,="" canada,="" mexico,="" south="" america,="" europe,="">
USA Company Contact:
Robert Dalton
rdalton@sas-automation.com