Product News: Vision Systems, Electrical Equipment & Systems, Electronic Components & Devices, Display & Presentation Equipment
Dimmable LED Thin Panel Lights are ETL and DLC listed.
Press Release Summary: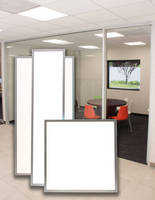 June 9, 2014 - Respectively, 1 x 4 ft, 2 x 2 ft, and 2 x 4 ft sizes in CLL series consume 45, 44, and 67 W, which decreases in linear proportion to dimming level, and deliver 4,325, 4,259, and 6,414 lm across 115° beam pattern. Solid-state design is impervious to shock, vibration, frequent switching, and environmental extremes. Able to replace fluorescent fixtures and tube lights, flat-panel down lighting products output 4,100K natural white light; optional colors include 3,000K and 5,000K.
Original Press Release
ETL & DLC Listed Dimmable LED Thin Panel Lights Ideally Designed for Down Lighting
Press release date: May 28, 2014
TORRANCE, Calif. — LEDtronics® announces energy-efficient, vibration-resistant LED replacements for both fluorescent fixtures and tube lights with its ETL and DLC listed dimmable thin-panel lights that are designed to replace troffers in most standard recessed T-bar ceilings.

Available in three sizes, the CLL series of thin-panel LED lights are ideal for flat-panel down lighting in offices, hospitals, hotels, resorts, conference rooms, commercial areas, as well as in educational institutions. Model number CLL1X4-40W-XWW-101D is 1x4 ft and consumes only 45 watts of power, CLL2X2-40W-XWW-101D is 2x2 ft and consumes 44 watts, while CLL2X4-60W-XWW-101D is 2x4 ft, with only a 67-watt power use. Power consumption further decreases in linear proportion to the dimming level.

Additionally, the minimal lamp heat output of LEDs over that produced by fluorescent tubes keeps temperatures in offices and hallways optimally lower, saving building air-conditioning costs .

The CLL LED Panel Lights come in frosted lens, putting out 4100-Kelvin natural white light. Optional other colors, 3000K and 5000K, are available on request with quantity orders. The panel lights operate at 100-277 VAC, delivering a total light output of 4325 lumens (1x4 panel), 4259 lm (2x2 panel) and 6414 lm (2x4 panel) across a wide beam pattern of up to 115 degrees. When it comes to rated life, the LEDtronics series of dimmable LED thin panel lights really shines. While conventional fluorescent lamps typically have an ideal-condition rated lab life in the range 8,000 to 24,000 hours, the CLL LED panel lights boast a real-world operating life of 50,000 hours and more—5.7 years of continuous light output.

The sturdy construction of a UV-resistant polycarbonate lens over the LED panels provides increased protection — no glass to break and no mercury environmental hazards to worry about as with fluorescent tubes. In addition, the housing shields against many environmental effects, allowing them to be placed in locations where typical tube lights would be more vulnerable to the elements, thus eliminating the additional expense of light-robbing plastic tube guards—a major problem in the food industry.

Also, LEDtronics thin LED panel lights perform well in a wide range of ambient operating temperatures: ~-22°F to ~+122°F (~-30°C to ~+50°C), making them ideal for applications subject to frequent on-off cycling or very low temperatures. Other benefits of LEDs over fluorescents include: Quick and easy installation to minimize retrofit costs; no ballast nor starter needed, thus mostly eliminating radio frequency that interferes with radio and cell phone signals; instant, full-strength light-up; no buzzing or flickering; and directional distribution of light. These thin LED panel lights come with an electrical junction box that connects to the back of the light panel for easy electrical connection.

Solid-state design renders LEDs impervious to shock, vibration, frequent switching and environmental extremes. Savings from reduced maintenance costs and downtime quickly return the capital investment expenditure, making them as friendly to the environment as they are to the operating budget. The LEDtronics LED panel lights comply with RoHS—the lead-free and mercury-free European directive. They emit little infrared or ultraviolet radiation. Unlike conventional fluorescent bulbs, LED lights are not disposed of as hazardous waste at end of life.

The LEDtronics series CLL Panel Lights come with a 5-year LEDtronics warranty. Availability is stock to 4-6 weeks for special requirements. For technical information or for custom design and/or manufacturing needs, contact Jordon Papanier at 310-534-1505 or e-mail us at info@ledtronics.com, or postal mail at LEDtronics, Inc., 23105 Kashiwa Court, Torrance, CA 90505. Visit our website at www.LEDtronics.com

About LEDtronics®
Based in Torrance, California, LEDtronics, Inc., since 1983 has been a world leader in designing, manufacturing and packaging Solid State Lighting products and state-of-the-art LEDs to meet the world's constantly changing lighting needs—from industrial control panel LED indicator lights to solid-state LED street lights, from direct incandescent- replacement based LED bulbs to direct fluorescent-replacement T8 LED tube lamps.

Quick web link for these LEDtronics ETL & DLC listed dimmable LED thin panel lights:

http://tinyurl.com/psuckjs