Product News: Sensors, Monitors & Transducers
Digital Output Hall Effect Sensors operate from 2.5-5.5 V.
Press Release Summary: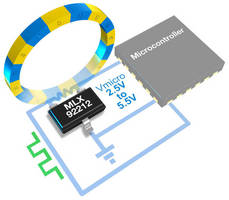 February 28, 2013 - Supplied in TSOT-23 packages, MLX92212LSE-AAA low hysteresis bipolar latch and MLX92212LSE-ABA high hysteresis unipolar switch are AEC-Q100 qualified and built on advanced CMOS process. Power supply range makes sensors suitable for pairing with low-power MCUs in embedded systems. While MLX92212LSE-AAA is designed for use with multi-pole ring magnets or alternating magnetic fields, MLX92212LSE-ABA allows use of generic/weak magnets or larger air gaps.
Original Press Release
Melexis Introduces New Low Voltage Digital Output Hall Effect Sensors
Press release date: February 20, 2013
Tessenderlo, Belgium - Melexis has announced the MLX92212 family of digital output Hall effect sensors. Built on an advanced CMOS process these AEC-Q100-qualified devices deliver robust, automotive level performance at competitive price points. They also require significantly less operating current than competing devices on the market.

The MLX92212LSE-AAA low hysteresis bipolar latch and MLX92212LSE-ABA high hysteresis unipolar switch are optimized for 2.5V to 5.5V operation, making them suitable for pairing with many low power microcontrollers in embedded systems. Both the sensor and specified microcontroller can thereby share the same power rail. The sensors' open-drain outputs allow simple connectivity with TTL/CMOS logic. They exhibit minimal magnetic switch point drift over temperature (up to 150 °C) or lifetime and can withstand 8kV electro-static discharge.

The MLX92212LSE-AAA is designed for use with multi-pole ring magnets or alternating magnetic fields. It is highly suited for BLDC motor commutation, speed sensing and magnetic encoder applications. Typical automotive uses include anti-trap/anti-pinch window lift controls, automatic door/hatch systems and automatic power seat positioning. The MLX92212LSE-ABA allows use of generic/weak magnets or larger air gaps. It can be employed in simple magnetic proximity sensing, interlocks in covers/hatches or ferrous-vane interrupt sensors for precise position and timing applications.

Both types of MLX92212 device utilize chopper-stabilized amplifiers with switched capacitors to suppress the offset generally observed with Hall sensors and amplifiers. The CMOS technology makes this advanced technique possible. It also contributes to the lower current consumption and smaller chip size (an important factor to minimize the effect of physical stress). The combination of all these factors results in more stable magnetic characteristics and enables faster, more precise sensor module designs.

MLX92212 devices are delivered in industry standard 3-pin surface mount, JEDEC outline TSOT-23 packages which are lead-free/ROHS-compliant. Pricing for the MLX92212 is as follows: $0.35 (5k pieces) and $0.30 (10k pieces).

For more information go to our website www.melexis.com/MLX92212 or contact your nearest Melexis sales office via www.melexis.com/contact.

Contact Melexis

Marketing Communications
Peter Riendeau
Melexis Inc
15 Trafalgar Sq., Ste. 100
Nashua, NH 03063
USA
Tel: 603-204-2900
Fax: 603 578-1270
pre@melexis.com

Sales Leads
Susan Brocious
Melexis Inc
15 Trafalgar Sq., Ste. 100
Nashua, NH 03063
USA
Tel: 603-204-2900
Fax: 603 578-1270
sbr@melexis.com

About Melexis
Melexis Microelectronic Integrated Systems N.V. (Euronext Brussels:MELE) imagines, creates and delivers innovative mixed signal integrated circuits. Melexis ICs are driving green solutions that enable our customers to bring more energy efficient automotive systems to market. Melexis product portfolio addresses 4 classes of ICs; Sensor, Optoelectronic, Wireless and Actuators. Sensors include magnetic, MEMs, and sensor interface ICs. Optoelectronic products encompass linear arrays, single point sensors, infrared thermometers and CMOS wide dynamic range and night vision cameras. Wireless ICs focus on RKE, TPMS, ISM band applications, NFC, RFID reader and smart tag solutions. Actuator ICs cover LIN and CAN bus networking ICs and advanced BLDC motor driver technology. Melexis is proud of its participation toward reducing the human race's global environmental footprint.

For more information visit www.melexis.com