Product News: Computer Hardware & Peripherals
Desktop Drive offers FIPS 140-2 Level 2 validated security.
Press Release Summary: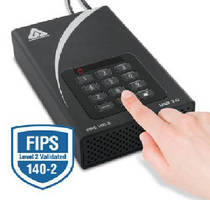 June 10, 2014 - Housed in aluminum, heat-dissipating enclosure with wear-resistant alphanumeric keypad, Aegis Padlock DT FIPS features storage capacity up to 6 TB and USB 3.0 speed. Desktop data storage unit can be configured with 1 independent admin and up to 4 users. Forced Enrollment PIN means there is no factory preset PIN and unique admin PIN must be created and entered to initiate drive. In addition, Aegis Padlock DT can be configured to lock after pre-determined period of inactivity.
Original Press Release
Apricorn Introduces FIPS Version of Aegis Padlock DT
Press release date: June 3, 2014
Apricorn's New Aegis Padlock DT FIPS Adds an Even Higher Level of Security to its Biggest, Fastest Desktop Data Storage Unit with FIPS 140-2 Level 2 Validation

POWAY, Calif., – Apricorn (www.apricorn.com),  a leading designer and manufacturer of data security products for business, military, and government, has raised the bar by elevating the security level of their workhorse desktop drive. The combination of USB 3.0 speed, high-capacity storage (up to 6TB), and FIPS 140-2 Level 2 validated security makes this drive one of the most user-friendly/hacker-hostile data storage units in existence.

"Reports of lost or stolen unsecured drives are a daily occurrence," said Mike McCandless, VP of Sales and Marketing at Apricorn.

"A seemingly small breach like a single unsecured drive that's lost or stolen from a medical office can translate to tens of thousands of private confidential records becoming anything but private and confidential."

Protection From Unauthorized Access

--  Alphanumeric keypad for secure access - The Aegis Padlock DT FIPS uses an onboard keypad to unlock the drive with a unique 7-16 digit PIN. The embedded keypad prevents hardware or software malware attempts to capture your password entered via the host system.
--  Forced Enrollment PIN: The Aegis Padlock DT FIPS elevates your data security right out of the box by placing a Forced Enrollment PIN feature at initial setup. With no factory preset PIN, a unique admin PIN must be created and entered to initiate the drive.
--  FIPS 140-2 Level 2  Validated: The Aegis Padlock DT FIPS 140-2 validation is the cryptography standard required by the US federal government for protection of sensitive data, covering 11 areas of its cryptographic security system, including physical security, cryptographic key management and design integrity.
--  Auto-Lock: An unattended Aegis Padlock DT can be configured to lock after a pre-determined period of inactivity - protecting your data when you're away from your desk.
--  Brute Force Defense Mechanism - Protects against automated hacker attempts to crack the drive's PIN with a three-pronged defense; after denying access to multiple incorrect PIN attempts, the drive shuts down and must be disconnected and reconnected to the USB port to resume. After which, should the maximum number of failed attempts be reached, the Aegis Padlock DT assumes that it is under attack and performs a crypto-erase, rendering all stored data useless, and a complete reset of the Aegis Padlock DT must be performed in order to redeploy the drive.

Perfect for Corporate Deployments
Simple to deploy and manage in corporate environments, the Aegis Padlock DT FIPS can be configured with one independent admin and up to four users. The Aegis Padlock DT FIPS also employs a drive reset feature which can be implemented with a unique command, which clears all PINs and data and creates a new, randomly-generated encryption key, enabling the drive to be reset and redeployed as many times as needed.

Software-Free Design: Setup takes just minutes, with no software to install and no compatibility issues to consider. Compatible with virtually any platform that supports USB and a storage file system, the Aegis Padlock DT FIPS provides stress-free deployment in all corporate environments, making it perfect for secure business collaboration.

USB 3.0 Super Speed Connection - Data transfer rates of up to 10x greater than USB 2.0 devices.
Aluminum Enclosure with Wear Resistant Keypad - With a durable, solid aluminum, heat-dissipating enclosure the Aegis Padlock DT FIPS whisks away heat from the drive. Additionally, the wear-resistant keypad hides frequent key usage.
Wide Variety of Drive Sizes and Free Support - Now available in 2, 3, 4, and 6TB capacities. For corporate and government customers, Apricorn provides a free evaluation plan to assess the Aegis Padlock DT FIPS relative to their company's security strategy.

System Requirements
Fully compatible with Microsoft Windows, Apple Mac computers and Linux as well as with any OS that supports a file storage system with a standard USB

About Apricorn
Apricorn has provided secure storage solutions for some of the most prominent names in the industries of finance, healthcare and government. Apricorn's products have become the standard for many data security strategies. Apricorn was founded in 1983 and has developed numerous award winning products under the Apricorn brand and has been an OEM supplier to a number of leading computer manufacturers. Apricorn is headquartered in Poway, California, and distributes products throughout North America and Canada.  For additional information please visit http://www.apricorn.com.

Company Contact:
Apricorn
Walter Fiorentini
(858) 513-4480


Web Site: http://www.apricorn.com