Product News: Test & Measuring Instruments
Deadweight Testers calibrate multiple pressure devices.
Press Release Summary: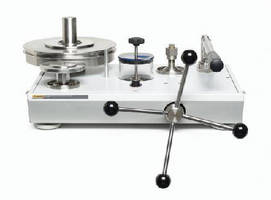 October 18, 2013 - Suitable for calibrating pressure transducers, transmitters, and gauges, P3100 Hydraulic Deadweight Testers include Models P3125XT-BAR, P3125XT-KGCM2, and P3125XT-MPA, which measure from 1–1,200 bar, 1–1,200 kgf/cm², and 1–120 MPa, respectively. Supplied with detachable lid for portability, all models include accredited calibration report; weight mass details; M14 x 1.5, M20 x 1.5, 1/8 in., ¼ in., 3/8 in., and ½ in. NPT and BSP female adaptors; operating fluid; and spare seals.
Original Press Release
Fluke Calibration Adds Three New Models to Its Line of P3100 Hydraulic Deadweight Testers
Press release date: October 9, 2013
EVERETT, Wash., -- Fluke Calibration announces the addition of three new models to its P3100 Hydraulic Deadweight Tester line of pressure calibrators. The new testers extend the P3125 oil-operated, dual PCU product line, allowing users to calibrate more devices with one instrument. The P3125XT-BAR measures from 1 to1200 bar, the P3125XT-KGCM2 from 1 to 1200 kgf/cm(2), and the P3125XT-MPA from 1 to 120 MPa.

The P3100 Series is the culmination of more than 50 years of experience in the production and design of high-performance pressure standards. With features designed to improve accuracy and performance, increase reliability, and simplify operation, P3100 deadweight testers can calibrate a wide range of pressure-sensing device, including transducers, transmitters, or gauges.

Each instrument is supplied with a detachable lid, making it neat, compact, and easily portable. The weight masses are stored in a high-quality case with a self-locking mechanism to protect them during transit. All units are provided with an accredited calibration report; weight mass details; M14 x 1.5, M20 x 1.5, 1/8-inch, 1/4-inch, 3/8-inch and 1/2-inch NPT and BSP female adaptors; operating fluid (where applicable); and spare seals. The piston/cylinder assemblies are manufactured to the very highest standards and are provided standard with ISO/IEC 17025-accredited calibration reports.

Visit the Fluke Calibration website for more information on the P3100 Hydraulic Deadweight Testers. To purchase, contact your Fluke Calibration sales representative or call (877) 355-3225.

Contact Fluke Calibration
For more information from Fluke Calibration, visit the Fluke Calibration website or contact Fluke Corporation, P.O. Box 9090, Everett, WA USA 98206-9090, or call 1-877-355-3225.

About Fluke Calibration
Fluke Calibration is a leader in precision calibration instrumentation and software for electrical, temperature, pressure, flow, and RF measurements. Calibration products from Fluke Calibration are found in calibration facilities around the world, including National Metrology Institutes, that demand the highest levels of performance and reliability, backed by state of the art metrology and uncompromising support. They are relied on by quality engineers, calibration technicians, and metrologists to instill confidence in the measurements that are critical to their organizations for quality, safety, reliability, and cost.

Fluke and Fluke Calibration are trademarks of Fluke Corporation. The names of actual companies and products mentioned herein may be the trademarks of their respective owners.

For more information:
Leah Friberg
Public Relations Manager
(425) 446-5905
leah.friberg@fluke.com

Web Site: http://us.flukecal.com