Product News: Electrical Equipment & Systems
DC/DC Converter suits wireless backhaul, smart grid applications.
Press Release Summary: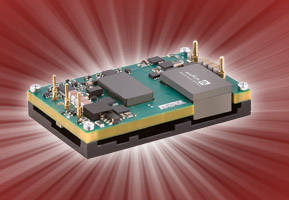 March 17, 2014 - Featuring single fixed 12 Vdc/20 A output, UWQ-12/20-T48 comes in DOSA-compatible, open-frame, quarter brick, 58.4 x 36.8 x 11.7 mm package and accepts 3:1 input range of 18–60 Vdc around nominal 48 Vdc. Remote sense automatically adjusts Vout to make up for line and load losses, while trim allows ±10% of Vout. With 92% typ efficiency, converter features 2,250 Vdc input to output isolation and offers regulation that ensures output voltage does not vary beyond ±1.25% when load changes.
Original Press Release
Murata 12V 20Amp DOSA Compatible Quarter Brick Suits Wireless Backhaul and Smart Grid Applications
Press release date: March 5, 2014
Murata today announced the UWQ 240 Watt quarter-brick DCDC converter from Murata Power Solutions designed for a wireless backhaul, smart grid, and a broad range of networking and other telecommunications applications. With a fixed 12 VDC / 20 A single output this DOSA compatible open-frame quarter brick package occupies only 58.4 x 36.8 x 11.7 mm. This compact device helps designers conserve valuable board footprint for today's space-constrained designs. The converter accepts a wide 3:1 input range of voltage from 18 to 60 VDC around a nominal 48 VDC. A remote sense feature provides the automatic adjustment of Vout to make up for line and load losses while a trim function allows +/-10% of Vout. The series has tight load and line regulation that ensures that the output voltage does not vary beyond +/- 1.25% when the load changes.

The UWQ-12/20-T48 has a typical efficiency of 92% and up to 3 units can operate in parallel in order to provide redundancy or load sharing of a higher power requirement.

Controls include remote On/Off control of either negative or positive logic. In addition, the converter has a number of protection features including overcurrent, overtemperature, input undervoltage and output short circuit.

The UWQ converter is designed to operate in environments ranging from - 40 to + 85 degrees C. Input to output isolation is 2,250 VDC with a Basic insulation system to meet industry safety requirements. An optional baseplate is offered to suit conduction cooled applications.

Contact details:
Murata Power Solutions, Inc.
11 Cabot Boulevard
Mansfield, MA 02048-1151, USA
Tel: +1-508-339-3000
Fax: +1-508-339-6356
e-mail: muratapr@murata-ps.com

About Murata Power Solutions
Murata Power Solutions (www.murata-ps.com) is headquartered in Mansfield, Massachusetts, with over 1,300 employees worldwide. Murata Power Solutions designs, manufactures and distributes DC-DC Converter, AC-DC Power Supply, Magnetic and Digital Panel Meter product lines, and offers these products in custom, standard and modified-standard variations. Murata Power Solutions. products are typically used within electronic applications serving major global market sectors including telecommunications, computing and industrial controls.

Murata Power Solutions is a division of Murata Manufacturing Co., Ltd., a worldwide leader in the design, manufacture and sale of electronic components and power supply modules. Murata's devices are found in a wide range of applications including consumer and automotive electronics, and wireless devices. The company has employees and manufacturing facilities throughout the world.

Follow Murata Power Solutions on Twitter: @murataps