Product News: Display & Presentation Equipment
D-ILA Projector is optimized for simulation environments.
Press Release Summary: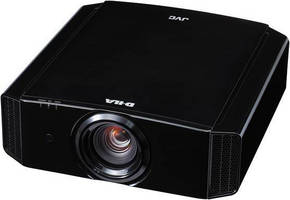 September 27, 2013 - Engineered for visualization applications, DLA-VS2200ZG offers 1,920 x 1,080 native resolution and optical engine with 3 D-ILA imaging devices that delivers 18,000:1 (min) native contrast ratio. Zoom lens (1.4–2.8:1) offers remote zoom and focus, ±80% vertical offset, and ±34% horizontal offset. Other features include 7-axis adjustable color management system, 12-bit gamma correction, 16 step lens aperture control, 10-bit color depth via 2 HDMI 1.4a inputs, and anti-smear reduction.
Original Press Release
New JVC DLA-VS2200ZG Visualization Series Projector Optimized for Simulation Environments
Press release date: September 18, 2013
WAYNE, NJ – JVC Professional Products Company, a division of JVC Americas Corp., today announced the DLA-VS2200ZG D-ILA projector. Engineered specifically for simulation environments, planetariums, and other visualization applications, the latest Visualization Series model offers 1920x1080 native resolution, and its next-generation optical engine delivers a minimum 18,000:1 native contrast ratio.

Built around an optical engine with three D-ILA imaging devices, the DLA-VS2200ZG offers a seven-axis adjustable color management system (CMS), 12-bit gamma correction with six user adjustable gamma presets, 16 step lens aperture control, and 10-bit color depth via its two HDMI 1.4a inputs. Its anti-smear reduction modes reduce image smearing during fast-motion scenes through black frame insertion.

New 1/16 sub-pixel convergence correction delivers more precise picture alignment. Plus, with its 230-watt NSH illumination system, the DLA-VS2200ZG delivers 850 lumens for accurate daytime and nighttime flight training, and 4,000 hours in normal lamp mode, which contribute to a lower cost of ownership.

"Long lamp life is an important consideration for the simulation marketplace, because it can help manage operational costs," explained Gary Klasmeier, product engineering manager, D-ILA Systems, JVC Professional Products Company. "The DLA-VS2200ZG delivers brightness that exceeds FAA regulations and delivers 4,000 hours of lamp life, which means fewer lamp replacements. And it doesn't sacrifice image quality in the process – the DLA-VS2200ZG provides exceptional imagery with low latency for an outstanding simulator experience."

Housed in a rugged chassis for motion-based applications, the DLA-VS2200ZG features wire grid polarizers and inorganic optical components for long life performance. Its 1.4-2.8:1 zoom lens offers remote zoom and focus, +/- 80 percent vertical offset, and +/- 34 percent horizontal offset. The projector also includes RS-232c and LAN connections as well as a wired/IR remote for control.

JVC is also announcing the DLA-VS2200G, which shares the same specifications but does not include a lens. Both projectors maintain the same form factor as previous models, and use the same mounting hardware and lenses, so projector replacement in existing installations is simplified. The DLA-VS2200ZG and DLA-VS2200G are now shipping.

ABOUT JVC PROFESSIONAL PRODUCTS COMPANY
Headquartered in Wayne, New Jersey, JVC Professional Products Company is a division of JVC Americas Corp., a wholly-owned subsidiary of JVC KENWOOD Corporation. JVC is a leading manufacturer and distributor of broadcast and professional video equipment. For further product information, visit JVC's Web site at http://pro.jvc.com or call (800) 582-5825.

Robin Hoffman
Pipeline Communications
Cell: (917) 763-8069
robinhoffman@pipecomm.com
Skype ID: robin-hoffman
www.pipecomm.com
News/Blog: www.pipelinecomm.wordpress.com
Follow: www.twitter.com/pipecomm