Product News: Electrical Equipment & Systems
Connectors for Subsea Applications offer various keying options.
Press Release Summary: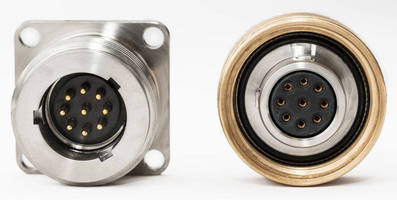 March 12, 2014 - Comprising 6 Km-rated, high-density, metal shell connectors with hard phosphor bronze engaging nut, BIRNS Millennium™ series offers key options that are fully machined and which feature squared silhouette. Design promotes strength as well as seamless and secure keying process. Specified in one of 4 positions, optional third key provides purposeful incompatibility of different positions between same connector with different circuits to negate potential confusion in field.
Original Press Release
New Enhanced Key Options Introduced for BIRNS Millennium(TM) Connector Series
Press release date: February 5, 2014
OXNARD, CA – BIRNS, Inc., an ISO 9001:2008 certified global leader in the design and manufacturing of high performance connectors, custom cable assemblies and lighting systems, has announced a range of new keying options for its popular BIRNS Millennium™ connector series. The BIRNS Millennium series is a 6Km rated, high density metal shell connector line trusted worldwide for demanding subsea applications, from manned and unmanned submersibles to sensors and towed arrays. The series is specifically engineered for challenging power and signal applications and systems requiring electro-opto-mechanical solutions.

The new BIRNS Millennium series keys are fully machined, as opposed to commercially available press fit versions, and feature a new squared silhouette, providing greatly increased strength and making the keying process more seamless, secure and user-friendly. BIRNS has also launched the position of an optional third key, providing purposeful incompatibility of different positions between the same connector with different circuits. This will obviate potential confusion in the field when more than one of the same connector—with the same pin configurations but different circuits, for example—are being used in a subsea system. The new third key option can be specified in one of four positions, which are designated by part number nomenclature.

Another additional enhancement added to the connector series is its new hard phosphor bronze engaging nut, providing even more strength and robustness to replace the brass formerly used.

About BIRNS, Inc.,
Founded in 1954, BIRNS, Inc. is an ISO 9001:2008 certified global leader in the design and manufacturing of high performance lighting and connector systems for deep ocean, marine, military and nuclear power applications. 

For more information, contact BIRNS Inc., 1720 Fiske Place, Oxnard, CA, 93033 • Phone: 805-487-5393 • US Toll Free 1-888-BIRNS-88 • Fax: 805-487-0427 • http://www.birns.com/ • http://www.facebook.com/BIRNSInc. • https://twitter.com/BIRNS_Inc . • http://www.youtube.com/user/BIRNSInc • http://www.linkedin.com/company/birns-inc- • http://instagram.com/birnsinc#