Product News: Electrical Equipment & Systems
Configurable SMPSs offer up to 92% conversion efficiency.
Press Release Summary: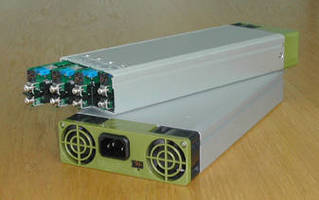 February 21, 2014 - Featuring 1U high package with up to 12 isolated outputs, Multistax® Premium switch mode power supplies come in 4- and 6-slot chassis versions respectively rated to 600 and 1,200 W. Design achieves 16 W/in.³ power density through planar magnetics, SMT packaging, and low loss transformer technologies. Plug-and-play architecture comprises front-end power units and slide-in output converter modules. Slots can be populated with multiple power modules, and outputs are fully floating.
Original Press Release
Highly Configurable 1U Switch Mode Power Solutions from Powerstax
Press release date: February 13, 2014
Maximize effectiveness when full custom design is simply not an option

• 400W to 1200W power output
• 1.5V to 58V standard output voltages
• Up to 92% conversion efficiency
• All outputs fully floating

Powerstax, specialist provider of highly optimized power sources, announces the Multistax® Premium family of configurable switch mode power supplies. Targeted at demanding application scenarios with exacting cost/performance requirements, such as industrial, communication and medical, these units expand the scope of what is achievable by engineers in their power system designs. Thanks to ultra-high efficiency levels, reaching up to 92%, the thermal load they place on systems into which they are incorporated is reduced by more than 50% compared with what can be expected from alternative products on the market. The industry-leading power density, which attains a value of 16W/in³ (0.86W/cm3), is derived through the combination of advanced, field-proven planar magnetics, surface mount packaging and proprietary low loss transformer technologies.

The innovative Multistax® plug-and-play architecture employed by this family comprises feature-rich front-end power units and slide-in output converter modules. These facilitate configuration, with the process of creating an application-optimized, semi-custom power solution generally completed in less than 5 minutes. The new units are offered in 2 different chassis versions; a 4 slot 600W rated version and 6 slot 1200W rated version. Their slots can be populated with multiple power modules in order that the specific voltage and current combination requirements can be met. Their outputs are fully floating, so they can be brought together in either series or parallel (as well as series-to-parallel) arrangements. This versatility means that engineers are able to resolve all manner of complex power system design challenges without having to resort to implementing full custom solutions, with their associated expense and time penalties.

"The flexibility that is inherent in this latest power source family allows virtually any conceivable input/output permutation to be realized. It furnishes our customers with a quick and simple to adjust framework on which to base their power system designs, while also benefiting from a very acceptable price tag," Tim Worley, CEO of Powerstax. "The low loss architecture combats thermal build-up and boosts overall system performance, so that every mW of power potentially available can be utilized to the utmost."

Supplied in compact 1U high (40mm) package, with up to 12 isolated outputs, there are a total of 11 output module types found within in the Multistax® Premium family. This leaves engineers with an almost limitless number of possibilities for configuring the outputs to meet their particular needs. Output voltages can either be set manually (via a potentiometer) or dynamically (using the various control inputs).  The Mulitistax® Premium family has UL/EN60950-1 (2nd edition) and UL/EN60601 (1 3rd Edition) approvals. An operational temperature range of -40°C to +70°C is supported.

About Powerstax:
Powerstax specialises in customised and configurable system-level power for demanding environments. Products include AC-DC power supply units, DC-DC converters and 19" rack mount power solutions. It also offers highly compact and ruggedized package solutions for applications that are space-critical or situated in harsh environments. The company's patented power technology has been deployed in military vehicles, defence, avionics, high-end industrial, oil & gas, medical, railway and commercial power systems across the globe. Through the acquisition of the Drake brand of transformer rectifiers, Powerstax is able to provide robust power up to 1MW to water treatment & purification, corrosion prevention and metal finishing applications.

For more information contact:
Powerstax
Unit 5, Armstrong Mall
Southwood Business Park
Farnborough, GU14 0NR, UK
Tel: +44(0)1252 407800         
Fax: +44(0)1252 407810
Email: sales@powerstaxplc.com
Website: www.powerstaxplc.com

Issued by:
Mike Green
Pinnacle Marketing Communications Ltd
Tel: +44 (0)20 84296543 
E-mail: m.green@pinnaclemarcom.com
Website: www.pinnacle-marketing.com