Product News: Electrical Equipment & Systems, Electronic Components & Devices, Materials & Material Processing
Compact Diode Arrays absorb ESD strikes at ±30 kV.
Press Release Summary: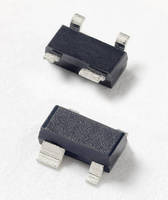 November 14, 2012 - Featuring compact SOT143 package, SR70 Series TVS Diode Arrays comprises 4 low-capacitance, rail-to-rail diodes to provide protection against ESD and lightning-induced surge damage. Able to absorb up to 40 A without performance degradation, series offers loading capacitance level of 2.0 pF typical and dynamic resistance of 0.35 Ω. Product facilitates the protectection of high-speed telecommunications interfaces such as VDSL, VDSL2, T1/E1/T3/E3, and 10/100/1000 Ethernet lines.
Original Press Release
SR70 Series TVS Diode Arrays (SPA Devices) Provide Higher Surge Rating, Lower Capacitance and Higher ESD Rating than Competitive Surge Protection Devices for Telecom Applications
Press release date: October 30, 2012
Compact SOT143 Package Conserves Space, Enhances Device Placement Flexibility

CHICAGO — Littelfuse, Inc., the global leader in circuit protection, today announced its new series of TVS Diode Arrays (SPA® Devices) optimized for protecting telecommunication interfaces such as VDSL and VDSL2 from damage. Each SR70 Series TVS Diode Array is built from four low capacitance, rail-to-rail diodes to provide excellent protection against electrostatic dissipation (ESD) and lightning-induced surge damage. The robust SR70 Series can safely absorb up to 40A (tP=8/20µs) and repetitive ESD strikes at ±30kV without performance degradation.

When compared with other devices available for telecommunications protection applications, the SR70 Series offers far greater protection against surge-related damage, including a much higher surge rating (40A vs. just 24A or 27A from competitive devices), a much lower loading capacitance level (2.0pF typical vs. anywhere from 2.5pF to 10pF), and a much higher ESD rating (30kV vs. 8kV). This low loading capacitance makes SR70 Series TVS Diode Arrays ideal for protecting high-speed data lines such as VDSL, VDSL2, T1/E1/T3/E3, and 10/100/1000 Ethernet lines. This robust level of protection is designed to help telecom manufacturers comply with regulatory standards.

"This product deepens our focus on protecting telecommunications applications and ports," said Chad Marak, Product Manager for Littelfuse TVS Diode Arrays. "It's the first TVS Diode Array optimized for use with xDSL interfaces, but our focus is still on protecting equipment against damaging lightning-induced transients."

SR70 Series TVS Diode Arrays offer circuit designers a variety of important benefits:
• Robust surge protection allows absorbing lightning-induced surge currents up to 40A (tP=8/20µs) without performance degradation and helps ensure compliance with regulatory standards.
• Low loading capacitance (2pF typical) from each I/O to ground minimizes signal degradation and makes them an ideal choice for protecting high-speed data lines such as VDSL and VDSL2.
• High ESD protection (±30kV contact, ±30kV air) exceeds the highest level of the IEC61000-4-2 standard (±8kV).
• Compact SOT143 package conserves board space, allowing designers greater flexibility when locating circuit protection devices.
• Extremely low dynamic resistance (0.35Ω) ensures excellent clamping performance.

All Littelfuse TVS Diode Arrays (SPA Devices) are designed to protect electronics from very fast and often damaging voltage transients, such as those due to lightning strikes and ESD. They offer an ideal protection solution for I/O interfaces and digital and analog signal lines in computer and consumer electronics products.

SR70 Series Lightning Surge Protection TVS Diode Arrays (SPA Devices) are available in quantities of 3,000 in standard tape and reel packaging.

About Littelfuse
Founded in 1927, Littelfuse, Inc., the worldwide leader in circuit protection, offers the industry's broadest and deepest portfolio of circuit protection products and solutions. Littelfuse devices protect products in virtually every market that uses electrical energy, from consumer electronics to automobiles to industrial equipment. In addition to its Chicago, Illinois, world headquarters, Littelfuse has more than 30 sales, distribution, manufacturing and engineering facilities in the Americas, Europe and Asia. Technologies offered by Littelfuse include Fuses; Gas Discharge Tubes (GDTs); Positive Temperature Coefficient Devices (PTCs); Protection Relays; PulseGuard® ESD Suppressors; SIDACtor® Devices; Silicon Protection Arrays (SPA™); Switching Thyristors; TVS Diodes and Varistors.  The company also offers a comprehensive line of highly reliable Electromechanical and Electronic Switch and Control Devices for commercial and specialty vehicles, as well as Protection Relays and underground Power Distribution Centers for the safe control and distribution of electricity.

For more information, please visit the Littelfuse website: littelfuse.com.

LFUS-P

Littelfuse, Inc.
8755 West Higgins Road
Chicago, IL 60631
USA

Media Contact:
Rhonda Stratton
Marketing Communications Manager
Littelfuse, Inc.
1-773-628-0644
rstratton@littelfuse.com

Technical Contact:
Chad Marak
Product Manager, TVS Diode Arrays
cmarak@littelfuse.com