Product News: Adhesives & Sealants
Color-Changing Sealant helps optimize product security.
Press Release Summary: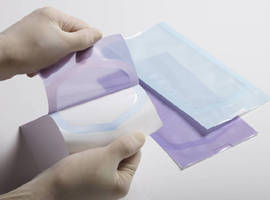 October 5, 2012 - Applied to any thermally stable web including polyester, nylon, and polypropylene or on company's ClearFoil® barrier structures, Coextrusion-Coated Sealant allows film of one color to transfer peel indicator of different color, providing visual indication that package has been opened. In addition to maximizing security and deterring counterfeiting, heat-seal technology enables medical device and pharmaceutical manufacturers to communicate branding attributes or color code products by type/size.
Rollprint Packaging Products, Inc.
Original Press Release
Rollprint Announces Color-Changing Sealant Technology for Flexible Applications Requiring Additional Security, Branding Advantages
Press release date: October 2, 2012
Addison, Ill.—Rollprint Packaging Products, Inc., which first developed the foil header pouch in the 1970s, is once again introducing a game changer—its proprietary color-changing sealant technology for heat-seal applications. 

The coextrusion-coated sealant can be applied to any thermally-stable web including polyester, nylon and polypropylene or on any of the company's ClearFoil® barrier structures.  Chevron pouches and lidding materials for trays are expected to be the first commercialized applications.

The technology, a year in development, has been engineered to allow a film of one color to transfer a peel indicator of a different color providing strong visual indication that a package has been opened. The objective is to enhance product security and help deter counterfeiting, in a cost-effective manner. 

The sealant, which is applied across the entire web, can accommodate many color combinations to help support branding initiatives. 

"When you peel open a standard chevron pouch, there is a subtle white indicator to show that the contents have been accessed.  What we've done is engineer a way to leave a strong visual reference with a desired color," explained Dwane Hahn, vice president of sales and marketing, Rollprint.

Not only does the new technology enhance security, but it also offers medical device and pharmaceutical manufacturers a new way to communicate branding attributes or color code products by type or size.  The transparent nature of the color application still allows contents to be visible.

"These market segments typically have not used visual elements to support brands to the degree that other categories have.  We view this new sealant technology as a game changer to help manufacturers grow market share, while also enhancing security," Hahn said.

In addition to medical device and pharma applications such as sutures, scalpels, pre-filled syringes, artificial joints, catheters, surgical gloves, etc., Rollprint envisions other uses for the technology.  Security driven packaging for valuable items such as gemstones, collectables, electronic components, documents, etc., is also a target.

The web can be made up to 65-inches wide and can also be flexographically-printed for additional brand support.

About Rollprint Packaging Products
With manufacturing facilities near Chicago, IL, Rollprint Packaging Products, Inc. is a worldwide supplier of packaging materials for the healthcare and food industries.  The company offers a complete range of flexible, heat-sealable materials incorporating film, ClearFoil®, foil, Tyvek® and paper.  Structures can be designed to accommodate any sterilization method.  Available in rollstock, pouches and die-cut lids, Rollprint's materials can meet the needs of most peelable, chemical resistant and barrier applications.

The company is a founder of Alliantz Flexible Packaging Pte. Ltd., a joint venture with Acme Packaging Co. (Pte) Ltd., Singapore.   Headquartered in Singapore, Alliantz serves the flexible packaging supply needs of Southeast Asia and China. 

Rollprint is respected throughout the packaging industry for its heat-sealable, peelable rollstock and pouch technology, as well as its ClearFoil® ultra-high barrier transparent laminates, Allegro® peelable sealants and ClearForm® forming webs.  Rollprint has supplied flexible packaging materials into healthcare, industrial and food end-use applications for more than 50 years.  Additional information can be obtained at www.rollprint.com.

Please forward sales inquiries to:
Dwane Hahn     
Rollprint Packaging Products, Inc.
320 S. Stewart Ave.     
Addison, IL 60101      
Phone: (512) 869-6620    
Email: dhahn@rollprint.com