Clip-On LED Headlight includes waterproof loupe.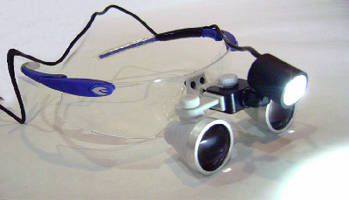 Clip-On LED Headlight includes waterproof loupe.
March 19, 2013 - Delivering up to 50,000 Lux, Universal Mini Lana includes Sport Wrap Waterproof Loupe with 2.5x or 3.5x magnification. Polycarbonate lenses have anti-scratch coating, while loupes allow cleaning and disinfecting. Providing optical clarity, unit offers flip-up adjustable nose bridge and fully adjustable viewing angle that allows convergence and declination angles for optical alignment.

Original Press release

Vision USA
600 Deer Rd.
Cherry Hill, NJ, 08034
USA



Vision USA Introduces the Universal Mini Lana LED Clip on Headlight with Sport Wrap Waterproof Loupe


Vision USA introduces the Universal mini Lana LED clip on headlight with Sport Wrap Waterproof Loupe 2.5x or 3.5x. The LED clip on is extremely bright 50,000 LUX and is completely angel adjustable. The lightweight polycarbonate lenses are anti scratch coated and the loupe is waterproof to ensure ease of cleaning and disinfecting. High-resolution optical clarity, great depth of field, Flip up function adjustable nose bridge, pupil distance and fully adjustable viewing angel allows converge and declination angle for perfect optical alignment. Economically priced for today's market this is a winner. For more information or to receive a Free catalog 800 257 5782 856 795 6199 www.visionusasupplies.com





---


Start Your

Free


Subscription to


Industry Market Trends

.