Product News: Safety & Security Equipment, Health, Medical and Dental Supplies & Equipment
Classic-Style Foam Earplugs combine comfort and protection.
Press Release Summary: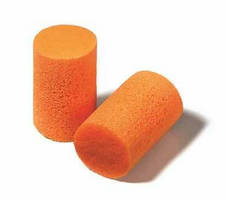 June 12, 2014 - Available in corded and uncorded versions, Howard Leight FirmFit™ earplugs are engineered for individuals who prefer soft, comfortable, and firm fit in order to feel their earplugs in their ears and are accustomed to cylindrical or barrel-shaped earplugs. Design exerts less expansion pressure in ear canal while providing 30 NRR dB hearing protection. Design facilitates roll down and insertion with time to adjust for proper fit, and bright orange color aids high-visibility identification.

Original Press Release
Honeywells Howard Leight Firmfit Earplugs Provide Great Comfort and Hearing Protection
Press release date: June 4, 2014
SMITHFIELD, R.I. — Honeywell's new Howard Leight FirmFit™ earplugs feature a softer, more comfortable fit and better noise protection than most leading classic-style foam earplugs.

A welcome advance in classic-style foam earplugs, Howard Leight FirmFit was engineered to enhance the wearing experience for individuals who prefer a firmer fit in order to "feel" their earplugs in their ears, and who are accustomed to the familiar cylindrical or barrel-shaped earplug.

"The new Howard Leight FirmFit earplugs are significantly more comfortable, provide more effective hearing protection, and exert less pressure in your ear canal than most older foam models that workers have used for years," said Rachel Newport, senior product marketing manager, Honeywell Safety Products. "The bottom line is this: The more comfortable the earplug, the longer workers will wear it. That's more protection for employees — and greater compliance for safety managers — a win-win for everyone."

Independent lab tests revealed the new Howard Leight FirmFit earplugs are 40% softer with 29% lower expansion pressure than most leading classic-style earplugs.

FirmFit earplugs provide effective 30 NRR dB hearing protection and are easy to roll down and insert, with plenty of time to adjust for a proper fit; bright orange in color for high-visibility identification; and available in corded and uncorded versions.

Workers are urged to try, compare, and feel the difference of FirmFit earplugs for themselves by requesting a complimentary "Ear-To-Ear Challenge" kit at http://www.howardleight.com/FirmFit. Each kit contains a week's worth, or five pair, of FirmFit earplugs. Workers are encouraged to wear FirmFit for a week in place of their current foam earplugs and share their experience online.

Howard Leight FirmFit earplugs are available immediately from industrial safety distributors in the U.S. and Canada. For more information, visit http://www.howardleight.com/FirmFit.

About Honeywell

Honeywell (www.honeywell.com) is a Fortune 100 diversified technology and manufacturing leader, serving customers worldwide with aerospace products and services; control technologies for buildings, homes and industry; turbochargers; and performance materials. Based in Morris Township, N.J., Honeywell's shares are traded on the New York, London, and Chicago Stock Exchanges. For more news and information on Honeywell, please visit www.honeywellnow.com.

About Honeywell Safety Products

Honeywell Safety Products (HSP), a global manufacturer of leading personal protective equipment (PPE) and provider of safety solutions, helps company employees make safer decisions on their own and build an enduring culture of safety. With world class brands such as Honeywell®, Uvex®, North®, Howard Leight®, Miller®, Fibre-Metal® and Servus®, HSP offers a full range of quality PPE, including: protective clothing; fall and hearing protection products; solutions that protect hands, head, feet, eyes and face; along with respiratory, welding, first-aid, lockout/tagout and traffic safety equipment. Lead them to safety—visit www.honeywellsafety.com/culture to learn more.

Media Contact: Don Goncalves, Tiziani Whitmyre Public Relations, 781-793-9380, dgoncalves@tizinc.com