Product News: Computer Hardware & Peripherals
Cellular 3G/4G Mobile Computer has ruggedized design.
Press Release Summary: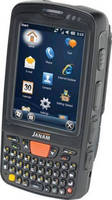 March 6, 2013 - Designed to support enterprise applications, wireless XT85 supports 3G/4G WWAN Technology (UMTS/HSDPA/HUSPA/GSM), integrates 3.5 in. color VGA or QVGA display, and survives multiple 5 ft drops to concrete at temperature extremes (6 ft drops at room temperature). IP65-sealed computer, powered by 806 MHz Marvell PXA310, runs Windows® Embedded Handheld v6.5 OS, supports 1D laser or 1D/2D data capture, and comes standard with 512 MB or optional 1 GB NAND Flash ROM and 256 MB DDR memory.
Original Press Release
Janam Announces 3G/4G Cellular Rugged Mobile Computer
Press release date: February 26, 2013
Janam's new XT Series delivers the latest HSPA+ technology in a fully rugged and highly affordable package.

WOODBURY, N.Y. -- Janam Technologies LLC, a leading provider of rugged mobile computers that scan barcodes and communicate wirelessly, today announced the release of its new XT85, a high-bandwidth wireless rugged mobile computer designed to support demanding enterprise applications in equally demanding outdoor environments.

The ability to deliver products with the right features at the right price sets Janam apart from its competitors in the rugged mobile computing industry.  Janam's XT85 follows suit, offering the complete set of features enterprises require in a rugged wireless wide area device, at a price point that makes extending enterprise mobility beyond the four walls more affordable than ever.

The XT85 survives multiple 5' drops to concrete at temperature extremes (and 6' drops at room temperature), offers a full 3.5" high-transmissivity display that maximizes outdoor readability while minimizing power consumption, maintains Janam's reputation as provider of the industry's fastest computing platforms, offers advanced 4G-ready cellular network connectivity with five-band UMTS for true global roaming and yet is far smaller and lighter than any device with a similar specification.

"Purpose-built mobile computers must appeal to today's information worker who expects a device that is small, light, fast and highly capable while also serving the business needs of the enterprise for whom the mobile worker is performing mission-critical tasks," said Harry B Lerner, CEO of Janam.  "Janam's XT85 is optimized to appeal to both constituencies.  It's much more than a smart phone.  It's a brilliant PDA."

In addition to 4G-ready UMTS/HSDPA/HSUPA/GSM wireless wide area network communication, the XT85 is equipped with 802.11 a/b/g/n WLAN with enterprise-grade security and Bluetooth.  It is available with the SE965HP laser engine from Motorola or Honeywell's Adaptus Imaging technology.  Purpose-built to accommodate the realities of work processes and environments, the XT85 is UL-certified for use in hazardous environments, sealed to IP65 standards and available with QWERTY or numeric keypads.  Lightning-speed processing, advanced power management and superior barcode scanning technology allow XT85 users to get the job done fast, efficiently and conveniently.

XT Series Features:

--  Windows® Embedded Handheld 6.5
--  Marvell PXA310 @ 806Mhz
--  512MB or optional 1GB NAND Flash ROM and 256MB double data rate (DDR) memory
--  High performance 1D laser or 1D/2D data capture
--  3G/4G WWAN Technology (UMTS/HSDPA/HUSPA/GSM)
--  Summit WiFi 802.11a/b/g/n
--  Cisco CCX certification
--  GPS
--  Motion sensing accelerometer
--  Bluetooth Class II 2.1 EDR compliant
--  CMOS 5.0 megapixel camera
--  IrDA Data v1.4
--  Multiple 5'/1.5m drops to concrete
--  IP65 sealing against environmental elements
--  Class I Div 2, Groups A, B, C, D
--  QWERTY or numeric keypad
--  Full color VGA or QVGA display
--  User-accessible microSD card slot
--  2.5mm headset jack with secure lock receptacle
--  Hi-Speed USB and serial output
--  Industrial communications port connector
--  MicroUSB connector
--  2400mAh or 3600mAH LiIon battery

About Janam
Janam Technologies LLC is a provider of rugged, handheld computing devices for mobile workers.  Janam combines deep industry knowledge with advanced technologies to deliver products and accessories that increase productivity, reduce costs and improve customer satisfaction.  Specializing in purpose-built mobile computers that scan barcodes and communicate wirelessly, Janam offers products that are designed to run mission-critical applications in retail, healthcare, hospitality, manufacturing and logistics.  For more information, visit www.janam.com.

Products or services mentioned may be trademarks or registered trademarks of their respective companies.

CONTACT: Bernadette Olsen, +1-516-677-9500, bernadette.olsen@janam.com