Cat 6A Patch Cables support up to 10 Gbit Ethernet.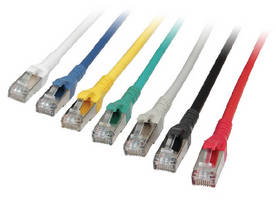 Cat 6A Patch Cables support up to 10 Gbit Ethernet.
December 27, 2013 - Available in 7 colors for color-coding, Cat 6A Ethernet Cables come in 12 cable lengths from 1.6–98.4 ft. Gold plating over entire length of pins provides corrosion resistance, while molded strain relief boot with lever protects connector from damage. Fully shielded to minimize EMI/RFI, Low Smoke, Zero Halogen cables can supply power over Ethernet to devices such as wireless access ports and IP cameras.

Original Press Release

TLC Electronics
18 Long Lake Rd.
Saint Paul, MN, 55115
USA



Cat 6A Patch Cables From TLC Electronics, Inc.


St. Paul, MN – TLC Electronics is pleased to offer the complete line of multi-colored Cat 6A Ethernet cables manufactured by Metz Connect.

Features of the Ethernet Cat 6A Patch Cables
• Up to 10 GBit Ethernet per IEEE 802.3an.
• Differentiates from the vast majority of patch cords that are Cat 5 or Cat 5e.
• Maintains performance in high bandwidth installations such as Cat 6A.
• Fully shielded cable and connectors to reduce EMI/RFI interference.
• Increased reliability and data integrity.
• Low Smoke, Zero Halogen (LSZH) cable for increased safety in case of fire.
• German manufactured cables reduce concerns about low-cost region produced cables that may not meet specifications or may contain hazardous materials.
• Available in seven vibrant colors allowing color coding of cables for easy port identification and/or pleasing aesthetics.
• Gold plating over entire length of pins creating excellent corrosion resistance.
• Molded strain relief boot with lever protection to protect connector from damage from pulling the cable.
• 12 cable lengths available from 0.5 meters (1.6 feet) to 30 meters (98.4 feet) encouraging organized installations and efficient cable management by eliminating excess cable.
• PoE and PoE+ compatible.
• Ability to supply power over Ethernet to devices such as Wireless Access Ports and IP Cameras.

Contact your TLC Electronics solutions provider today at 1-800-852-6694 or tlcsales@tlcelectronics.com for more details on the Cat 6A patch cords available from TLC and Metz Connect. 

ABOUT TLC ELECTRONICS, INC.
TLC Electronics, Inc. is a leading distributor of interconnect and electromechanical products offering a wide range of services to meet customer specific applications.  These services include precision wire and cable assembly, fan and blower assembly, power supply modification, electromechanical subassembly including turn-key enclosure assembly and drafting services.

TLC Electronics is certified under ISO9001:2008 and is UL/CUL recognized.  TLC's account managers and inside sales personnel are trained in the electromechanical product lines and services offered and are prepared to assist customers and prospects with solutions for their specific application.  See www.tlcelectronics.com for more details on the products and services offered by TLC Electronics.

ABOUT METZ CONNECT
METZ CONNECT – this is RIA CONNECT, BTR NETCOM as well as MCQ TECH in a united enterprise association. RIA CONNECT focuses on print-board connectors in screw, spring-type and IDC-type SMT applications and offers its customers access know-how in both traditional manufacturing technology and in modern reflow processes. BTR NETCOM specializes in network components and connectors for structured building and industry cabling; a further specialty is electronic network components for control technology and building automation, and energy monitoring systems. Creating perfect connections is the core competence of METZ CONNECT. The personal commitment of the founding family characterizes the international success of the independent, medium-sized enterprise group, which together with its subsidiaries pursues the company's goals with a high degree of responsibility. Highly innovative, efficient processes and partnerships have characterized the METZ CONNECT Group for decades. The company's brands RIA CONNECT, BTR NETCOM MCQ TECH offer a diverse, innovative product portfolio with highly specialized connector components that satisfy with highest quality.

For additional information, please contact Steven Olson, TLC Electronics' sales and marketing director at 651-558-2582 or via email s.olson@tlcelectronics.com.

See attached logo for TLC Electronics, Inc. and photo of Metz Connect Cat 6A cables.

---
| Featured Manufacturing Jobs