Product News: Computer Hardware & Peripherals
Carrier Board enables creation of custom industrial SBCs.
Press Release Summary: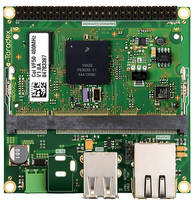 July 8, 2014 - Viola 4-layer Open Source carrier board can be combined with Colibri VF50 COM, Freescale® Vybrid™-based Computer-on-Module, as well as any module in pin-compatible Toradex Colibri family. Inserting Colibri VF50 or any other Colibri module into Viola carrier board allows for creation of custom-specific, industrial-quality SBC. In addition to supporting LCD panels and touch interfaces, this 74 x 74 mm board supports such interfaces as USB 2.0 host, 100 Mbit Ethernet, I²C, SPI, UART, and GPIO.
Original Press Release
Toradex Launches Open Source "Viola", a New Concept for Ultra-Low Cost Customized Single-Board Computers (SBC), Starting at $55.00
Press release date: June 30, 2014
Toradex — a world leading provider of embedded computing solutions based on ARM® CPUs – today announced Viola, a new open source concept for ultra-low cost customized single-board computers. Combined with Colibri VF50 COM, a Freescale® Vybrid™-based Computer-on-Module, a Viola based single-board computer starts at $55.00 for 1K units ($69.00 single unit price) and offers a very interesting set of functions for numerous embedded applications.

The Viola carrier board may also be paired with any module in the pin-compatible Toradex Colibri family, thereby offering a variety of Customized SBCs with different performance levels, features and price points.

"This development is going to further strengthen our world leading position in the embedded ARM computer modules today. Inserting a Colibri VF50 or any other Colibri module into your Viola carrier board allows you to very economically create your own custom-specific industrial quality single-board computer. This is an ideal choice for cost-sensitive end-products in the most demanding industries without any hidden charges." explains Ronald Vuillemin, Toradex Chairman.

The 4-layer Open Source Viola carrier board, Toradex's recent addition to its portfolio of carrier boards, measures just 74mm x 74mm, and is compatible with the entire Colibri family of COMs. The long product lifecycle of 10+ years, complemented with the availability of key communication interfaces – including USB 2.0 host and 100 Mbit Ethernet – and a variety of industrial interfaces – such as I2C, SPI, UART and GPIO – makes the Viola carrier board perfectly suited for industrial and embedded applications. Support for LCD panels and touch interfaces is also provided. The schematics, layout, libraries and BOM are all available free of charge in electronic format, thereby enabling a full custom design, if required.

The Viola carrier board's core features and benefits are further explained on http://www.toradex.com/products/carrier-boards/viola-carrier-board.

Availability and Pricing
The Toradex customized single-board computer (Colibri VF50 & Viola) is planned for availability in July 2014 on the Toradex web shop for a price of $69.00 (single order) and $55.00 (bulk order > 1000 pcs).

The Viola carrier board is planned for availability in July 2014 on the Toradex web shop for a price of $22.00 (single order) and $19.00 (bulk order > 1000 pcs).

For more information, please visit http://www.toradex.com/products/customized-single-board-computer

About Toradex Colibri Family
The pin-compatible Colibri ARM® embedded Computer-on-Module product family is based on the NVIDIA® Tegra™ series, Freescale® Vybrid™ and i.MX6 series and Intel®/Marvell® XScale™ series of SoCs. The Colibri family delivers cost and performance optimized designs. Small form factor Colibri modules encapsulate complex hardware and software technology for fast and easy embedded product development.

About Toradex
Toradex specializes in embedded computing technology, offering a broad range of highly miniaturized yet powerful pin-compatible embedded computer modules based on ARM processors complemented by extensive support directly from the engineers. Founded in Switzerland in 2003, the company's network today stretches across the globe with offices in the USA, Vietnam, China, India, Japan and Brazil. For more information, visit http://www.toradex.com

For media queries, please contact:
Lakshmi Naidu: lakshmi.naidu@toradex.com