Product News: Cleaning Products & Equipment
Carpet Cleaner creates temperatures as high as 210°F.
Press Release Summary: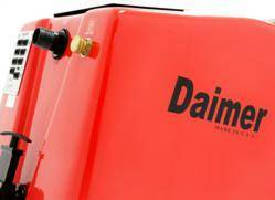 February 8, 2013 - Creating pressures up to 170 psi, 2,400 Watt XTreme Power® XPH-5900IU includes Low Flow™ technology to minimize usage of water. Unit dries carpets in nearly 2 hours and upholstery in 1 hour, eliminating risk of mold formation. Two stage motor creates water column lift of 100 in. and air flow of 100 cfm. With Adjustable Temperature Control™ Technology, operators can turn off heat completely while maintaining delicate carpets or use high temperatures for tough commercial cleaning tasks.
Original Press Release
Daimer Unveils Carpet Cleaner for Cleaning Fabric Upholstery and Carpets in Recreational Vehicles
Press release date: February 7, 2013
WOBURN, MA, U.S.A – Daimer Industries, Inc.®, the globally reputed U.S. brand and supplier of versatile carpet cleaner machines, heated carpet cleaning equipment, multi-purpose floor cleaning equipment, industrial car wash equipment, and many other types of cleaning machines, has launched the www.daimer.com/carpet-cleaners/xtreme-power-xph-5900iu.htm  , one of the company's latest upholstery carpet cleaning equipment that creates temperatures as high as 210º F. The 4 inch upholstery tool, included with the carpet extractor, helps users efficiently maintain a recreational vehicle's fabric upholstery as well as smaller carpeted areas. An optional floor wand is available to clean larger expanses of carpet quickly. The machine creates pressure as high as 170 psi, which is higher than any other carpet steamer in its class.

"Dirty upholstery and carpets create an eyesore and spilled foods can result in foul odors, especially within the close confines of a recreational vehicle. Dirt is generally carried into the vehicles through shoes and accumulates on the carpets. On the other hand, food spills leave stains on the upholstery if not removed immediately," states Matthew Baratta, Daimer Industries, Inc.® spokesperson. "Daimer® is delighted to announce the launch of a carpet shampooer with high suction power, low water usage, and durable housing for effective, powerful, and fast cleaning. The XTreme Power® XPH-5900IU with long hoses and minimum drying time makes the work easier, as compared to machines from other brands that dry carpets and upholstery in nearly 24 hours and do not feature the best accessories."

Auto detailing professionals will appreciate the portability of the XTreme Power® XPH-5900IU carpet cleaner www.daimer.com/carpet-cleaners/xtreme-power-xph-5900iu.htm . The 2,400 watts machine weighs just 59 lbs and can be easily transported in a car or a SUV, unlike machines that need a commercial van or truck for transportation. The XPH-5900IU is the best carpet cleaner for anyone in the mobile vehicle cleaning business.

The heated carpet extractor dries carpets in nearly two hours and upholstery in nearly one hour, ending the risk of mold formation. Mold that may reside in damp and dirty carpets can cause allergies to practically anyone traveling in the RV. It even triggers asthma in children. The XTreme Power® XPH-5900IU comes with Daimer®'s special Low Flow™ technology that allows for the usage of less amount of water for cleaning. The upholstery and carpets, cleaned with such a technology, do not get soaked with water and dry in less time.

Additionally, Daimer®'s XTreme-XTraction™ wand technology, available with all of its carpet cleaning equipment http://pinterest.com/daimerinc/carpet-cleaning-machines/ , increases the extraction power of the XTreme Power® XPH-5900IU by 60 percent. The suction power, which is equivalent to that of an additional vacuum motor, is also a major reason for the machine ability to offer such rapid drying times. The system's powerful two stage motor creates a water column lift of 100 inch and an air flow of 100 CFM, both of which enhance the machine's drying capabilities to a great extent.

The two powerful inline heating elements incorporated within the XPH-5900IU create high temperatures within just five minutes. Daimer®'s exclusive advanced, Adjustable Temperature Control™ (ATC™) Technology allows operators to turn off the heat completely while maintaining delicate carpets or to use high temperatures for tough commercial cleaning tasks. Simply making an adjustment to the required temperature is all it takes for this compact steam vacuum cleaner.

The XPH-5900IU mobile carpet shampooer also comes with extremely easy recovery chamber drainage feature. Users simply need to pull a latch and the dirty water can be drained into a bucket. This machine can also be used for regular carpet cleaning, when an optional carpet wand is purchased. Long hoses up to 25' allow users to clean a 2000 square feet area without even moving the upholstery and carpeted floor cleaning equipment.

Simple designs and self-maintenance features of Daimer® machines www.daimer.com make them the most desirable and best carpet cleaner systems in the industry. The company is known for the quality and ease of use of its machines all around the world. The systems come with Daimer®'s Modular System Design™ (MDS™) and Self-Maintenance Engineering™ (SME™) technologies, both of which allow users to easily replace a part, in case of need. Parts of all of its systems are easily available, and users do not need to ship the machines to professional repair centers.

Cleaning experts suggest pre-spraying carpets with a cleaning liquid, and then letting it dwell for up to 15 minutes. Daimer®'s Eco-Green® Carpet Care & Upholstery Cleaner solution, which is completely plant based and soap free, offers superior cleaning results. The solution gets extracted immediately and carpets remain cleaner for a long time. Two gallons of Eco-Green® solution is supplied free by the company during promotions. Nearly 64 gallons of diluted ready-to-use liquid can be prepared with this concentrate.

Additional Information:
For more information on the XTreme Power® XPH-5900IU carpet cleaner, visit Daimer®'s website, or telephone Matthew Baratta at (888) 507-2220. The machines are shipped to nearly 240 countries worldwide.

About Daimer Industries, Inc.®:
Daimer Industries, Inc.® is the leading brand and supplier of advanced cleaning machines www.daimer.com/allcarpet-cleaners/ , such as varied car wash equipment, steam vacuum cleaners, gum removal systems, carpet cleaning machines, pressure cleaners, hard surface cleaners, and more. The company is completely committed to America, as its employees, management, and ownership are 100 percent Americans.

Contact:
Matthew Baratta, Daimer Industries, Inc.®
16 Tower Office Park,
Woburn, MA 01801
www.daimer.com
www.facebook.com/DaimerInc
http://twitter.com/daimer_inc
http://pinterest.com/daimerinc/
matt@daimer.com
(888) 507-2220