Product News: Chemical Processing & Waste Management, Green & Clean, Waste Handling Equipment
Carbon Material remediates persistent oil spills.
Press Release Summary: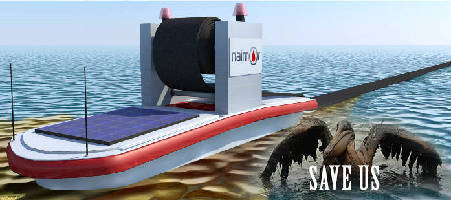 February 10, 2014 - Using eco-friendly carbon material, NAIMOR provides efficient oil recovery and remediation. Inert, highly hydrophobic, regenerative nanostructure can absorb quantities of oil up to 150 times it weight. Chemical-free material can also be produced in different shapes and sizes.  
Original Press Release
NAIMOR is the Newly Discovered Remedy for Persistent Oil Spill Issues
Press release date: January 31, 2014
As we know our oceans have encountered many high profile oil spills over recent years. This persistent degradation of our environment is an ongoing problem. There are also lesser-known situations where the spills are small and these can often be easily resolved with lesser amounts of damage caused. In the larger disasters such as BP's Deepwater Horizon oil rig in the Gulf of Mexico tremendous damage is caused to oceans and aquatic life with yet to be fully understood detrimental long-term effects to our environment as a whole. For their remediation purposes, many ineffective conventional techniques were used with high costs and heavy labor involved. To overcome these situations and to make the remediation process simpler, a new material has been discovered. The NAIMOR discovery is the new benchmark for the effective remediation of persistent oil spills The product deals with oil spill issues with an eco-friendly material for recovering oil efficiently. Being inert, highly hydrophobic, regenerative, chemical-free, three dimensional nanostructure this carbon material can absorb quantities of oil up to 150 times its weight. The material can also be produced in different shapes of different sizes.

At present there are many conventional remedies used for oil recovery such as sand barrier berms, oil skimmers, oil control booms, controlled burning of the surface oil, dispersants, natural degradation and bioremediation which were found to be costlier and ineffective. Now with this new material, people charged with responsibility for oil spill damage control have access to the most effective solution that can really solve the full gambit of problems caused by oil spills of all sizes. NAIMOR replaces all of the previous ineffective technology producing extremely high efficiency and outstanding results.

An engineer from Italy named Ivano Aglietto contributed a lot in researching the best solution for the damaging effects of oil spills. Ivano Aglietto a professional engineer with a PhD in Environmental Engineering has made a significant contribution to oil spill cleanup through his devotion to his profession of the production of best nanostructure carbon materials. In the past, he has had excellent successes in discovering the new nanostructure materials that have gained focus from government institutions which have also honoured with certification as best inventions in their field. With his determination, skills and knowledge, once again he came up with a ground breaking solution for oil spills.

Ivano Aglietto's  "NAIMOR" is without doubt the nanostructure material which, being specifically intended to be used in recovering oil is the best solution available for both today and into the future. NAIMOR is produced in Rudná of the Czech Republic.

Contact  : Ivano Aglietto
Company  : Ivano Aglietto
Address  : K Vypichu 502 - 252 19 Rudná, Czech Republic
Email    : ivano@naimor.com
Website  : www.naimor.com

http://cz.linkedin.com/in/ivanoaglietto
https://facebook.com/RECAMproject
https://twitter.com/ivano_aglietto