Product News: Computer Hardware & Peripherals
COTS Embedded Computers target military applications.
Press Release Summary: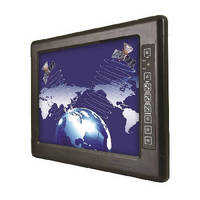 January 20, 2014 - Intended for military command, control, communications, intelligence, and interoperability applications, C4I2 Displays and Embedded Systems withstand extreme environments, conditions, and stringent demands of MIL-STD-810 and MIL-STD-461 standards. Available in 8.4, 10.4, 15, 17, 19, and 20.1 in. screen sizes, systems are suited for ground mobile, homeland defense, and ship board applications. Also offered, COTS rugged military tablet computers are available in 8.4, 10.4, and 12 in. screen sizes.
Original Press Release
AIS Offers COTS Platform-Based Design, Ultra Rugged LCD Monitors and Embedded Computer Systems for Military Communications Systems and Services
Press release date: January 13, 2014
AIS Rugged HMI Displays Reduce Development Risks, Costs and Time to Market for Military Command, Control, Communications, Intelligence, and Interoperability (C4I2) Applications

IRVINE, CALIFORNIA – American Industrial Systems, Inc. (AIS), a leader in designing, engineering and manufacturing  rugged displays, monitors and computer systems specifically for the Commercial Off-The-Shelf (COTS) military and marine marketplace, announces the availability of their  C4I2 platform-based design COTS military embedded systems.  C4I2 stands for military command, control, communications, intelligence and interoperability applications. It is a term used to define command and control systems within a military system and includes the use of equipment or technologies such as military embedded computing displays and systems from AIS combined with human interaction activity. AIS COTS rugged and advanced embedded computing systems, monitors and displays provide highly reliable command, control, computing and communication (C4) capabilities for situational awareness and data processing in ground vehicle and shipboard deployments.

AIS Platform-based Design & COTS Improve Reliability, Deliverability and Reduced Costs
Platform-based design is a concept for dealing with the increased pressure for time-to-market, design and manufacturing costs. Common in the design of personal computers, the application of the platform-based design concept is now applied to the design of more advanced electronic systems that consist of software, hardware components and integrated circuits such as AIS rugged embedded computer systems, LCD monitors and displays. COTS is a term for goods available in the commercial marketplace that can be bought and used under government contract. Likewise, the goal for using COTS components is the reduction of overall system-development and costs (as components can be bought or licensed instead of being created from inception) and reduced long-term maintenance costs.

AIS embraces platform-based and COTS design and methodology for its military and marine embedded computing systems, displays and HMIs to achieve the many desired benefits of this approach for their customers. Nelson Tsay, President of AIS, adds, "Time-to-market, design complexity and cost of ownership are driving the military and marine industry towards more disciplined design techniques and embedded system design. AIS offers the complete solution with our military and marine computers, displays, monitors and tablet product offerings". Due to their expertise and commitment to developing COTS-based military and marine HMI solutions, the company was recently awarded a U.S. General Services Administration (GSA) schedule contract for their pre-designed, COTS-based embedded computing systems and displays. AIS's embedded computers, displays, monitors and tablets are now available for procurement from U.S. Military, Aerospace and other Government Defense Agencies.

AIS Military Embedded Computing Systems and HMIs Meet MIL-STD-810 and MIL-STD-461 Standards
Designed for the Commercial Off-The-Shelf (COTS) military marketplace, AIS ultra rugged displays and embedded computing systems are engineered to withstand the extreme environment, conditions and stringent demands of MIL-STD-810 and MIL-STD-461 standards and certifications.  MIL-STD-810 standards require testing for drops, shocks, vibration, humidity, altitude, rain, dust and sand-resistance, temperature extremes, and thermal shock.  MIL-STD-461 standards require testing and approval for EMI and EMC, for size, weight, and power (SWaP). AIS military and marine display and interface solutions are certified for both standards.

AIS delivers a broad range of military embedded computing systems, including ruggedized military display monitors and integrated display computers. AIS military computing solutions are sometimes referred to as multi-function displays (MFD), multi-function workstations (MFW), multi-function consoles, multi-function control and display systems, military panel computers and tablet PCs with durable touch screen interface technology. Finally, these military rugged displays and computer systems from AIS are designed, tested and time-proven solutions suitable for ground mobile, homeland defense and ship board applications. Their full range of rugged, COTS-based military embedded computer displays and monitors are available in 8.4", 10.4", 15", 17", 19" and 20.1" screen sizes.

Compact, Versatile, COTS based Military Tablet PCs from AIS are Engineered for Many Uses
Available in screen sizes 8.4", 10.4" and 12", AIS COTS rugged military tablet computers are approved for MIL-STD-810 and 461 certifications as well. The compact and durable tablet computers are ideal for battlefield logistics, tactical operations, vehicle/aircraft maintenance and troubleshooting applications, and also find suitable use in public safety, energy and utilities, transportation and automation industries and markets.

Rugged Displays, Monitors and Integrated Display Computers for the Marine Industry
The company also offers a variety of ruggedized display monitors and integrated display computers for the marine industry. AIS marine ECDIS display monitors, marine display monitors, naval rugged displays, naval rugged display computers, and marine panel computers are designed to operate and withstand the conditions and challenges from the maritime environment. 

AIS marine embedded computing systems, displays and monitors are ideally suitable for use in the Combat Information Center (CIC) on board surface ships, combat ships, submarines, and military vessels, as well as for bridge control display, navigation, monitoring and ship automation applications. Marine monitors and computers from AIS comply with marine equipment standards IEC 60945, DNV 2.4 and IACS-E10 needed to withstand the harsh maritime environment requiring low EMI or long-term vibration resilience.  AIS COTS ruggedized LCD display touch screen monitors for marine applications are available in screen sizes 10.4", 15", 19", 23" and 24".

About AIS
Headquartered in Irvine, California, USA, American Industrial Systems, Inc. (AIS) offers in-house electronic and mechanical design, software development, manufacturing, production and quality control services. Offering one of the widest ranges of Industrial Computing solutions, AIS solutions are available in a multitude of configurations for Industrial, Oil & Gas, Military and Marine applications. The company is fully committed to empowering, improving and delivering turnkey HMI, monitoring and display solutions for OEM, ODM and end-user customers. AIS is an ISO 9001:2008 certified supplier and manufacturer of rugged computers and displays, and received completion of the International Traffic in Arms Regulations (ITAR) registration from the Directorate of Defense Trade Controls (DDTC). For more information, visit: www.aispro.com, email: sales@aispro.com or contact: 1-888-485-6688.

Media Relations Contact:
American Industrial Systems, Inc.
Santiago Consunji
Business Development and Marketing Manager
949-681-7468
santiago.consunji@aispro.com