COM Express Mini COMs offer scalable power and performance.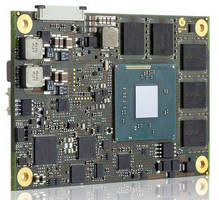 COM Express Mini COMs offer scalable power and performance.
December 9, 2013 - With 55 x 84 mm (COM Express) form factor, x86 feature set, and optional ECC memory, COMe-mBT10 mini Computer-on-Module (COM) series comprises 7 variants with scalable performance that covers entire embedded range of Intel® Atom™ E3800 and Intel Celeron® N2900/J1900 processors. Modules are rated from -40 to +85°C and offer video HD technology as well as Intel Gen 7 HD graphics capabilities. Other features include multiple connectivity/expansion options and security functions.

Original Press Release

Kontron Modular Computers GmbH
Sudetenstraße 7
, , -
Germany



Kontron Launches Broad COM Express Mini Computer-on-Module Portfolio for Entire Range of Embedded Intel Atom E3800 and Intel Celeron Processors


New Kontron COM Express mini module family maximizes graphics and processing performance – even for extended temperature ranges from -40 up to +85°C

Eching/Nuremberg, Germany – Today, at the SPS/IPC/Drives show, Kontron unveiled seven new credit card sized Computer-on-Modules based on the world's leading form factor standard COM Express. The performance range of the new COM Express mini modules is highly scalable and covers the entire embedded range of the Intel Atom processor E3800 and Intel Celeron processor N2900 and J1900 product families, formerly codenamed 'Bay Trail'. The most impressive feature of the new Kontron COMe-mBT10 Computer-on-Module family is the three times higher graphics performance compared to previous Intel Atom processors coupled with unbeatable TDP (thermal design power) values. And although all the Intel Atom processor E3800- based modules are designed for the extended temperature range of from -40 to +85°C, they also offer an extensive set of features, including PCIe extension options, new security functions and optional ECC memory. The enhanced, powerful and flexible x86 feature set in combination with the low-power credit card-sized footprint makes the new COM Express mini Computer-on-Modules a perfect fit for an extremely wide range of new, graphic-rich multi-touch applications.

Users in all markets will benefit from double the performance, significantly improved performance-per-watt ratios and the long-term availability which the rugged new x86 modules offer. The range of applications includes everything from slim but graphics-rich and open, programmable industrial tablets and handheld PCs through to in-vehicle systems and stationary HMIs and controllers. Targeted industries are POS/POI, infotainment, digital signage, gaming, and medical technology as well as industrial automation, and mechanical engineering. With the availability of the new COM Express mini Computer-on-Modules, developers can make direct use of the extensive x86 ecosystem and the world's leading COM Express form factor standard. They can even factor already existing designs with this new performance class without having to replace carrier boards or application software. What's more, customers will benefit from Kontron's extensive software and customization services enabling their new SFF designs to be implemented faster and more efficiently.

The feature set in detail
The new Kontron COMe-mBT10 COM Express mini Computer-on-Module family (55 mm x 84 mm) with Type 10 pin-out is equipped with Intel Atom processor E3800 or Intel Celeron processors. Seven module variants are included in the range, offering wide scalability from low-power single-core Intel Atom (1.46 GHz / 5 W TDP) processor performance for energy-sensitive applications through to genuine quad-core Intel Atom (4x 1.91 GHz/ 10 W TDP) and Intel Celeron (4x 2.42 GHz / 10 W TDP) processor performance in high-end applications. The new Intel Gen 7 HD graphics integrated on the SoC offer up to three times more graphical power, including DirectX 11, Open GL 3.1, and OpenCL 1.1 support for two independent displays with 1x DP++ (DP/HDMI/DVI) up to 2560x1600@60Hz and 1x Single Channel LVDS 18/24bit with DPtoLVDS up to 1920x1200 (and optional eDP). New video HD technology additionally enables brilliant video reproduction and stereoscopic 3D viewing for an immersive user experience. The modules come with options for data memory with two SATA II 300 Mbps interfaces or versions with additional eMMC memory (up to 64 GB). In addition to having two serial ports, they include Super Fast USB 3.0 interfaces, up to eight USB 2.0, Gigabit Ethernet, as well as three Gen 2 PCI-Express x1 lanes for customer specific expansions.

In addition to its extensive Windows and Linux support, the Kontron COMe-mBT10 COM Express mini Computer-on-Module family is also suitable for real-time operating systems such as Wind River VxWorks 6.8, underscoring its versatility for a variety of applications in diverse vertical markets.

Availability and further information
First-off product samples of the Kontron COMe-mBT10 COM Express mini Computer-on-Module family will be available in January 2014. Please visit the Kontron COMe-mBT10 product family web page for further information.

For more details on the COM Express mini form factor, visit the Kontron COM Express mini web page.

About Kontron
Kontron is a global leader in embedded computing technology. With more than 44% of its employees in research and development, Kontron creates many of the standards that drive the world's embedded computing platforms. Kontron's product longevity, local engineering and support, and value-added services, help create a sustainable and viable embedded solution for OEMs and system integrators. Kontron works closely with its customers on their embedded application-ready platforms and custom solutions, enabling them to focus on their core competencies. The result is an accelerated time-to-market, reduced total-cost-of-ownership and an improved overall application with leading-edge, highly-reliable embedded technology.

Kontron is listed on the German TecDAX stock exchange under the symbol "KBC". For more information, please visit: http://www.kontron.com/

Media Contacts

North America
Justine Johnson
Kontron
Tel: +1 858 677 .0877
justine.johnson@kontron.com

Annette Keller
Keller Communications
Tel: +1 (949) 640-4811
annettekeller@sbcglobal.net

All rights reserved. Kontron is a trademark or registered trademark of Kontron AG. Intel® and Intel® Celeron®, Atom™ are trademarks or registered trademarks of Intel® Corporation in the US and other countries. PICMG® and COM Express® are trademarks or registered trademarks of the PCI Industrial Computers Manufacturers Group. All other brand or product names are trademarks or registered trademarks or copyrights by their respective owners and are recognized. All data is for information purposes only and not guaranteed for legal purposes. Subject to change without notice. Information in this press release has been carefully checked and is believed to be accurate; however, no responsibility is assumed for inaccuracies.

---
| Featured Manufacturing Jobs